Actively preparing for the international workshop "One Asian Convention Hanoi 2018"
On February 27th, 2018, University of Languages and International Studies (ULIIS) and One Asia Fund had a meeting to prepare for the international workshop "One Asian Convention Hanoi 2018".
The meeting revceived the attendance of Dr. Do Tuan Minh – ULIS's President, Dr. Tran Thi Huong and Dr. La Thi Thanh Nha – Dean and Vice-Dean of the Faculty of Korean Language and Culture, Assoc.Prof. Lam Quang Dong – Director of the Office of Science of Technology and M.A. Mai Van Hoa – Vice-Director of the Office of Cooperation and Development. From the side of One Asian Fund, the general secretary – Hidekazu Nishizuka and Post-Doctoral fellow Joon-Kon Chung and in-charge staff took part in the meeting.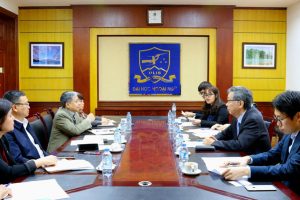 One Asia Convention Hanoi 2018 with the topic "Hope for future" funded by One Asia Fund in cooperation with ULIS will be tentatively held on the 4th of August at Lotte Hotel (Hanoi). The meeting is expected to attract hundreds of foreign guests from 300 universities of 30 countries.
During the meeting, the two sides positively discussed the detailed plan for organizing the workshop, including speakers, guests, agenda, presenters, subcommittees, etc. The assignments requiring the cooperation from both sides were strongly emphasized and discussed thoroughly.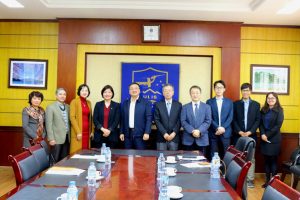 At the end of the meeting, President Do Tuan Minh highly appreciated the efforts of One Asia Fund in preparing for this workshop. He also affirmed that ULIS would soon establish the Organizing Committee as well as implement some related activities. Expressing his absolute belief in ULIS, Secretary-general Hidekazu Nishizuka hoped that One Asia Convention Hanoi 2018 would be a greatly successful workshop.