Annual ULIS faculty, staff and 2018-2019 Academic Year Summarization Conference
On August 8th, 2019, the University of Languages and International Studies – Vietnam National University, Hanoi (ULIS – VNU) held an annual ULIS faculty, staff and 2018-2019 Academic year summarization conference at Nguyen Van Dao Hall.
The conference, from VNU, was attended by Mr. Pham Bao Son, VNU's Vice President, Mr. Nguyen Thanh Nam, Vice Chairman of VNU's Trade Union and representatives of leaders from functional departments. From ULIS, Mr. Do Tuan Minh, ULIS's President, Ms. Nguyen Minh Thuy, ULIS's Vice President, Mr. Nguyen Xuan Long, ULIS's Vice President, Mr. Lam Quang Dong, ULIS's Vice President and more than 600 civil servants and public officials of ULIS took part in the conference.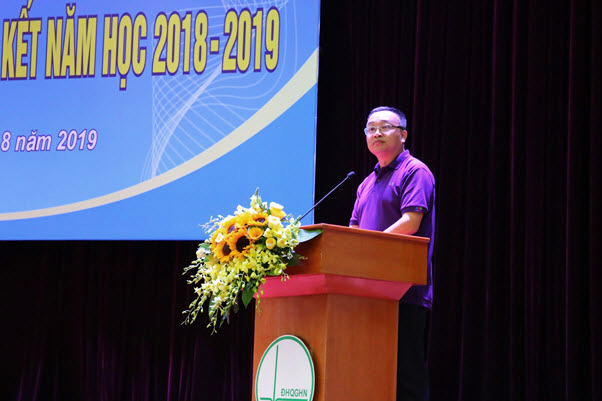 At the conference, President Do Tuan Minh presented reports on the university's implementation of the Conference's Resolution, tasks in 2018-2019 and plan for 2019-2020. He asserted that with VNU's detailed guidance, ULIS had accomplished success in several fields (self-management model finalization, science and technology development strategy implementation, teaching innovation…). The university's President also stated 6 main objectives for 2019-2020 school year along with concrete measures.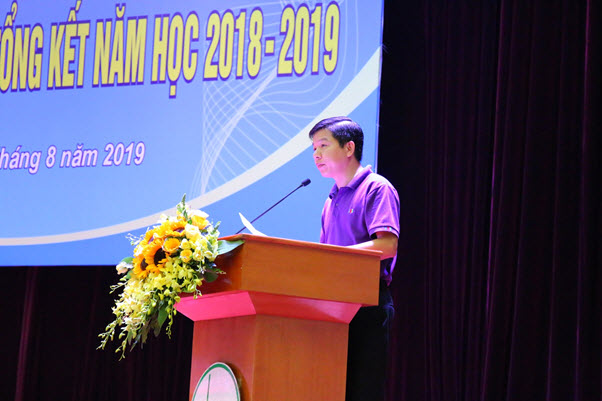 Mr. Nguyen Van Doan then presented the outcomes of Conference of Public Officials and Civil Servants in sub-units and collected comments and feedback. The report clearly demonstrated concerns of ULIS's institutional Party, management board and trade union about taking care of the material and spiritual life of civil servants, public officials and workers. The attention was manifested by practical activities, ensuring the benefits and encouraging outstanding individuals in a timely manner. In the school year of 2019-2020, the university's trade union requests all units to promote movements such as good teaching – good learning, creative working manner, good performance at school and home, environmental protection, professional development and others so that each lecturer would be a moral, self-study and creative example to follow. The 2018-2019 report and 2019-2020 working plan of People's Inspection Committee stated that the Committee had fulfilled plans and programs of the past school year. The report also demonstrated opinions and promises of the university's units and the Committee to closely follow the school's activities and implement well assignments in the next school year.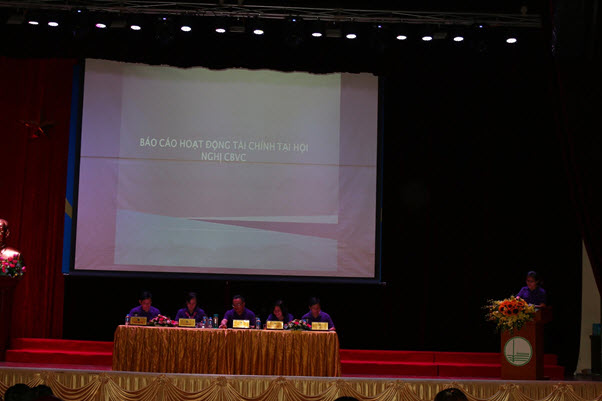 The conference was also reported on budget management and welfare. Ms. Le Thi Khanh Trang, Director of Finance and Planning Office presented specific data and finance and planning activities in 2018-2019 and the 2019-2020 plan.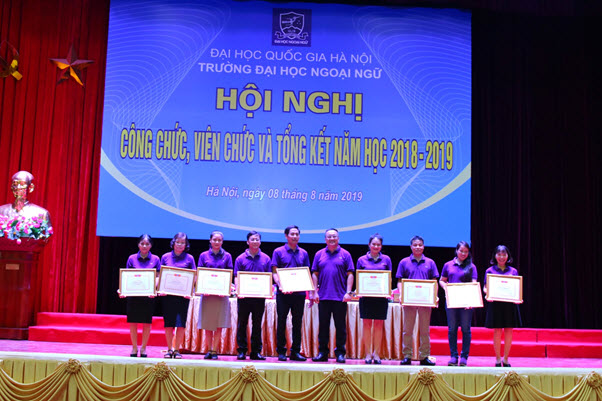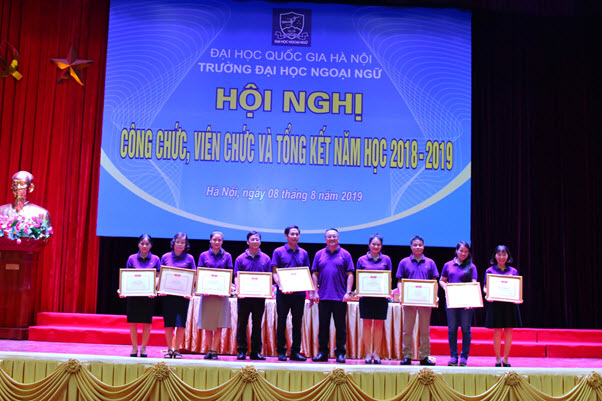 This conference was also an occasion to honor individuals with outstanding achievements in the past school year. The school awarded certificates of merit to 10 lecturers with high achievements in science and technology activities, 3 young lecturers with high achievements in 3 consecutive school years, 2 groups with high scientific and technological achievements and a group of staff participating in the cooperation project with Cau Giay District People's Committee, Lang Son Department of Education and Training and Thanh Hoa Department of Education and Training.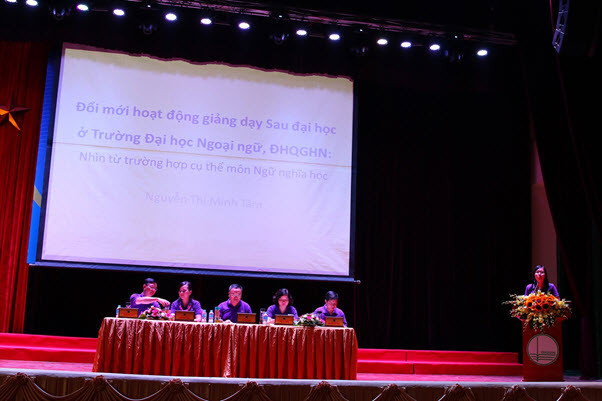 The conference also had 6 presentations on the topics: Innovating postgraduate teaching activities at ULIS – VNU: Perspective from a specific case of Semantics; Introducing the fast-track programs In accordance with Circular No. 23/TT-BGDĐT: Opportunities and Challenges; Cooperating with localities to improve the quality of teaching and learning English at lower and upper secondary schools – A new feature in the strategic cooperation for development of ULIS – VNU; Associating scientific research with international publication: Challenges and Solutions; Building a job bank for students of ULIS – VNU: Practice and Solutions and Reassessing and fostering staff of academic affairs at ULIS – VNU: Perspective of insiders.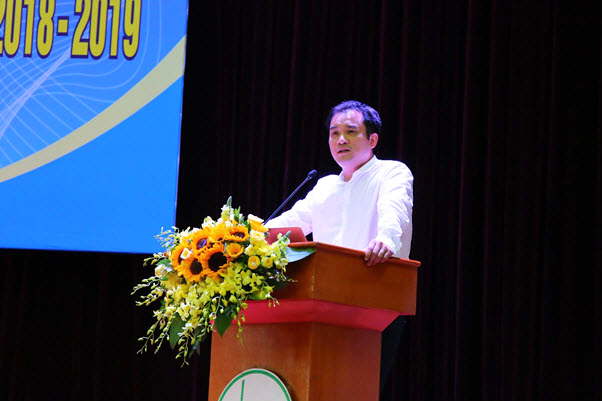 Addressing at the conference, Mr. Pham Bao Son, VNU's Vice President highly appreciated the efforts of ULIS in implementing tasks of the 2018-2019 school year. The new VNU's Vice President also requested that the university needed to continue paying attention to teaching innovation, quality assurance of fast-track programs, high school administration and teaching, scientific research (especially international publications) and increased graduate student sources. Assoc. Dr. Pham Bao Son affirmed that ULIS had contributed to VNU's ranking in the Webometrics ranking.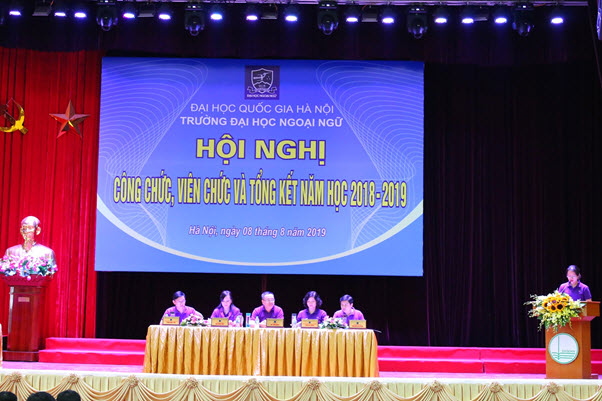 On behalf of the university, President Minh acknowledged the stewardship of VNU's leadership and expressed the university's determination to make efforts to implement the tasks and expect the support and company of VNU.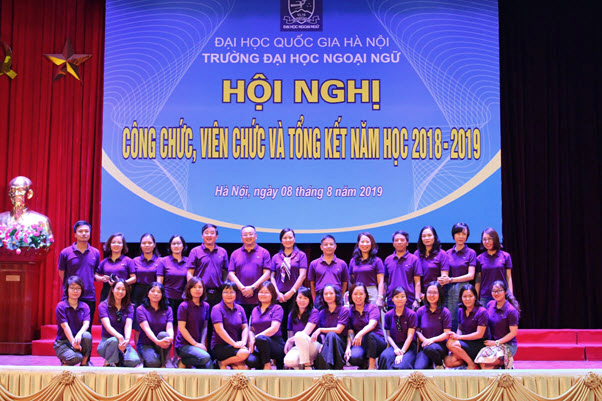 After a serious working period, the conference closed with a high sense of solidarity, unity and determination of the participants. The conference passed a resolution calling on all public officials and civil servants of the university, with a spirit of democracy, consensus, tradition and achievements, striving to successfully complete the main tasks. The value of the school year continues to remain stable, creating a solid development base for the following years, contributing to building and developing University of Languages and International Studies and VNU.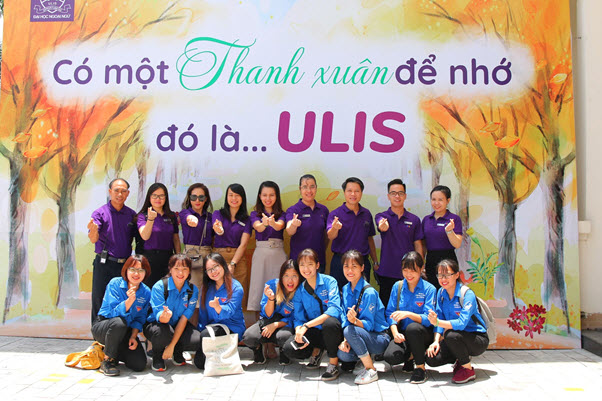 I. Remarkable achievements of ULIS in academic year of 2018-2019:
Successfully enrolled students in both quantity and quality at lower and upper secondary schools for gifted students and university training level; completed the teaching innovation project at ULIS – VNU in 2019-2025.

Successfully designed 03 fast-track training programs in accordance with Circular no. 23/2014/TT-BGDDT (English Language, French Language and German Language).

Established the ULIS Middle School, directly under ULIS – VNU and ASEAN Language and Culture Division.

Successfully completed ahead schedule key State-level science and technology project "Research and develop the model to improve foreign language capacity for officials of Customs, Foreign Affairs, Tourism, Border Defense in the context of international integration in Northwest region" with 35 main products (14 programs, 21 documents).

Renovated and upgraded the university's facilities, landscape and campus; built a self-study space for students and common activities space for lecturers and equipped 100% of classrooms with air-conditioners.

Promoted administrative innovation, increased the autonomy and self-responsibilities of units and implemented the one-stop-shop administrative department for staff at ULIS – VNU.
II/ Significant plans and tasks of the university in 2019-2020
(Politics) Successfully organize the 19

th

cell Party conference of units and institutional Party's congress of ULIS – VNU.

(Training) Effectively deploy the Project of teaching innovation at all levels and successfully implement fast-track programs.

(Student) Maximize the effectiveness of the Project on renovating the practice, internship and complementary skill development for students of ULIS; operating the "one-stop-shop" model to enhance support and services for students.

(Science and Technology) Implement objectives of the university's Science and Technology Development Strategy in the period of 2019-2025, prioritizing the increase of both quantity and quality of scientific researches of high applicability in teaching innovation.

(Cooperation and development) Effectively take advantage of cooperation and development activities to increase the number of international students, supplement foreign experts and lecturers for advanced training programs, create resources and opportunities for students and university's staffs to study, research, practice, do internship within and without the country.

(University administration and facility development) Strengthen the effectiveness of legal affairs, complete documents to direct and administer the operating areas of the University; continue implementing the General planning on university's facilities and equipment for the period of 2016-2021.