Australian Ambassador talked about diplomatic relations with staff and students of ULIS
On February 6th, 2018, University of Languages and International Studies (ULIS) – Vietnam National University (VNU), Hanoi, together with Vietnam – Australia Friendship Association organized a talk show on "Australia's Foreign Policy White Paper and Vietnam – Australia relations: Looking toward a strategic partnership" hosted by Craig Chittick, the Ambassador of Australian Embassy in Vietnam.
This was an event to celebrate the 230th anniversary of Australia's Independence (26/1/1788-26/1/2018) and the 45th anniversary of Vietnam – Australia diplomatic relations (26/2/1973-26/2/2018).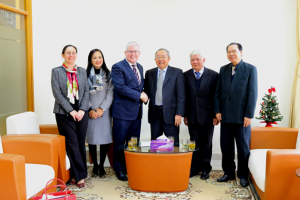 The event was attended by Assoc. Prof. Dr. Ngo Minh Thuy – ULIS's Vice President; representatives from Cooperation and Development Office, Politics and Student Affairs Office, Faculty of English Language Teacher Education (FELTE), Faculty of Linguistics and Cultures of English-speaking Countries, Faculty of English Language and a large number of students of FELTE. The talk show also received the participation of leaders and staff from Australian Embassy in Vietnam; Vietnam Union of Friendship Organizations; Vietnam – Australia Friendship Association; ASEAN Department, External Relations Department and Institute of Strategy Studies of Ministry of Foreign Affairs; Center for Asian and Pacific Studies and International Affairs (VNU, University of Social Sciences and Humanities); Asia – Pacific Economic Review; Asia – Pacific Center, etc.
Addressing at the ceremony, Ms. Thuy extended her thanks to Viet Nam – Australia Friendship Association for selecting ULIS as the venue for this event. This was a meaningful activity as well as a good opportunity for students to understand more about Australia, its foreign policy and the cooperation between the two countries.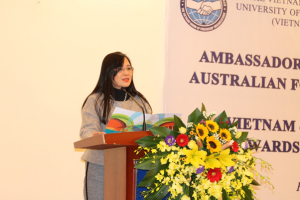 At the meeting, Ambassador Craig Chittick had open sharings about Australian Foreign Policy White Paper, Vietnam – Australia relations and many interesting specialized diplomatic concepts. In addition, the Ambassador also answered questions from ULIS's staff and students about topics related to diplomacy and the land of kangaroos. He successfully won the audiences presented at the hall with his lively presentation and narration.