Awarding the certificates of Vietnamese Language Training Course in 2017 to international security and police students.
On 5th December 2017, University of Languages and International Studies, Vietnam National University (ULIS-VNU) organized the graduation ceremony of the Vietnamese language training course for international security and police students.
The ceremony was attended by Assoc. Prof Ngo Minh Thuy _ ULIS's Vice President; Lieutenant Colonel Le Duc Tuyen _ the Deputy Director General of Foreign Relations Department, Ministry of Public Security; foreign relation representatives of Cambodia, China, Japan, Korea, and Laos, Malaysia, Singapore; leaders of departments and representative lecturers from ULIS, and 15 students participating the course co-organized by Ministry of Public Security and ULIS-VNU.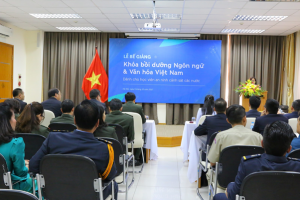 At the ceremony, Vice President Thuy congratulated excellent students who have completed the Vietnamese Language and Culture Training Course in the last 6 months.
"Six months is not a long time, especially when we have reached the end of the journey. However, if you think of the memories with your teachers, peers, Vietnamese people and this country, I believe that each of you has gained a lot of valuable experiences. I knew that many practitioners had traveled all over Vietnam to not only explore the scenery but also truly experience the foreign language that you were learning. And in the process, there were a lot of people who have made great improvement: from poor reading, writing, hearing and speaking skill – can now fully and confidently use Vietnamese in study and work.
For students who have completed the last 6-month course, I believe that besides determination, they also need a lot courage. Staying far away from home in a country with different culture and language, in addition to studying, there are still many tasks to fulfill…that is just one of the many challenges you have got over. Nevertheless, I believe that those efforts have been paid off. We had the opportunity to eradicate the language barriers and cultural differences. We also had the opportunity to make new friends, studied in wholesome, dynamic and multicultural environment." said Vice-president.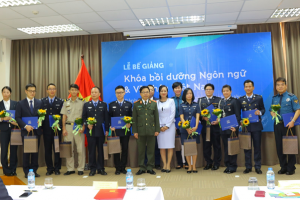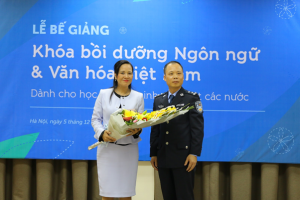 Lieutenant Colonel Le Duc Tuyen congratulated all the students and sent gratitude toward ULIS for having co-organized the course successfully. He also expressed the desire to cooperate with the university in many upcoming activities.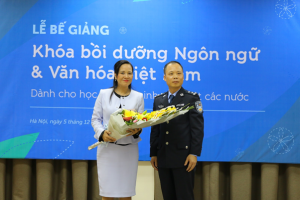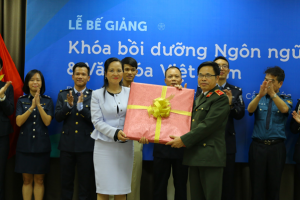 At the ceremony, the students got to share their feelings and memories during their time in Vietnam, especially at ULIS. The sincere feelings were formulated in Vietnamese. In addition, the practitioners dedicated emotional Vietnamese songs to the teachers.
The closing ceremony of the 10th Vietnamese Language Training Course for international security and police students came to an end with a moving atmosphere.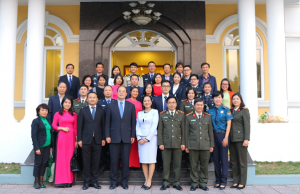 The 10th Vietnamese Language Training Course for international security and police students was attended by 15 security and police officers from 9 countries including Laos, Cambodia, Singapore, Malaysia, China, the Republic of Belarus and the Czech Republic. During the 6-month period of the course, being divided into 3 classes, students have been trained with standard curriculum, integrating in-class teaching and extracurricular activities, exchanged with students of ULIS, participated in practical language training activities in Hanoi's famous destinations, experienced Vietnamese traditional culture, Vietnamese cuisine and toured to Ha Long – Cat Ba. These experiences not only aimed to improve their Vietnamese language skills for work requirement but also provided an opportunity for students to practice their language skills and learn deeply about the country, the people and the culture of Vietnam.