Dialogue on teaching English with Ms. Marie Royce – the U.S Assistant Secretary of State
On June 19th, 2018, the University of Languages and International Studies – Vietnam National University, Hanoi (ULIS-VNU) was honored to welcome Ms. Marie Royce – the U.S Assistant Secretary of State. She was accompanied by Ms. Caroline Casagrande – her Advisor; Ms. Molly Stephenson – Counselor of Culture and Information, the Embassy of the United States in Vietnam; Ms. Diane Millar – Director of the English Regional Office, the Embassy of the United States in Vietnam; Mr. Duong Le – Assistant Director of English Regional Office, the Embassy of the United States in Vietnam.
Representatives of ULIS included Dr. Do Tuan Minh – ULIS's President, Assoc. Prof. Dr. Ngo Minh Thuy – ULIS's Vice President, Dr. Bui Dinh Thang – ULIS's Vice Director of Cooperation and Development Office, Prof. Nguyen Hoa – Chairman of VietTESOL cell/Chairman of ULIS's Science and Training Council. The event was also attended by Assoc. Prof. Dr. Nguyen Van Trao – President of Hanoi University and Ms. Nguyen Thi Mai Huu – Head of the Management Board of the National Foreign Language Project 2020.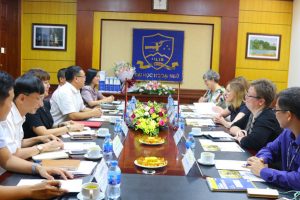 During the dialogue, President Minh expressed his happiness and honor to welcome Ms. Marie Royce to ULIS. Being a long-standing university with many achievements in foreign language training, ULIS has been continuing to fulfill its mission of training talented and ethical bachelors to make contributions to the country'a development as well as promote Vietnam-U.S ties in the future.
In the dialogue, Ms. Marie Royce and members from the Embassy of the United States in Vietnam discussed with Vietnamese teachers about many topics: Vietnam's important renovations in the development of teaching and learning English; experience in coorperation with the government, other universities and American non-governmental organizations in teaching and learning English; suggestions for strengthening the connection between American and Vietnamese universities and academic exchange programs for lecturers and students. English teaching and learning programs in Viet Nam has been undergoing significant transformations: the application of learning English through practice; tools for boosting senses: hearing, sight and touch.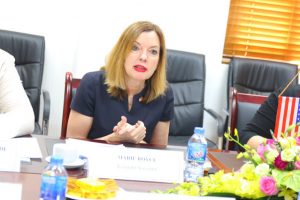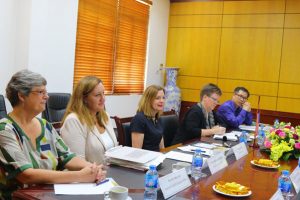 English is a global language and has gradually become a vital skill for labors. According to Ms. Marie Royce, in order to help students to be more "appealing" to employers of private businesses, the university can apply 3 following ways: First, create an active curriculum, encouraging students to get high results. Second, ask for advice from former students or employers. Third, build a mutual relationship between the university and businesses and learn the interest, value system and needs of businesses to offer sensible requests of cooperation.
Ms. Marie Royce spoke highly of the efficiency of online exchange activities. Based on practical experience when applying online in-class exchange between a class in California and one in Russia, she realized that with the real development of technology and internet system, online exchange projects had gradually become popular and played an important role in these projects. Online exchange helps to reduce the time and distance among schools or organizations all over the world. Students feel excited to interact with one another and we encourage them to work together to complete their projects. Through co-working to implement the projects, students exchange their knowledge of cultures, opinions and other things… Touching upon technology and online exchange, it is a must to talk about E-teachers (online teachers). Some universities in the U.S are developing a curriculum with virtual teachers so that students can study online. Students learn not just English but also sciences with virtual teachers. Vietnamese students should be equipped with basic knowledge of English to study English in Vietnam in a more effective manner.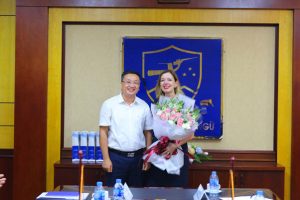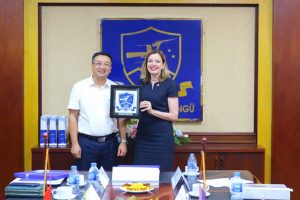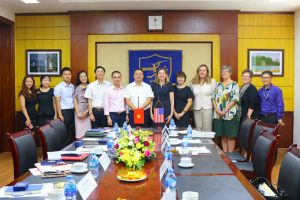 The dialogue took place in a positive and effective atmosphere. Closing the event, Ms. Marie Royce extended her thanks ULIS for its great hospitality and hoped that there would be many cooperation opportunities in the future. President Minh presented flowers and souvenirs to the U.S Assistant Secretary of State.
On this occasion, the Embassy of the United States in Vietnam gifted some books to the ICT ULIS Center such as "Educating Second Language Teachers, English Teaching Forum", "Doing Action Research in English Language Teaching", "Connecting Reading & Writing in Second Language Writing Instruction ", etc.