Introducing regulations for interns in Okinawa
On November 8th, 2016, ULIS-VNU held a meeting to guide students to complete their profiles to do internships in Okinawa, Japan and introduce them the regulations when working there.
Participants of the event were the staff of Politics and Student Affairs Office, lecturers of Faculty of Japan Language and Culture and particularly Mr. Kazuyoshi Tsukagoshi – President of Association for intern support in Japan together with 11 students joining this internship cohort.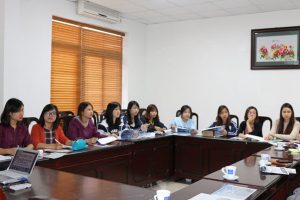 In the framework of the signed training cooperation agreement between ULIS and the Association in 2016, the internship program in Okinawa was attached great importance to by the Faculty of Japan Language and Culture as well as the university.
According to the previous official document, students of Faculty of Japan Language and Culture with Japanese proficiency equivalent to the N2 level in the Japanese Language Proficiency Test (JLPT) would have chances to join the one-year internship course in Okinawa which is tentative to start in January, 2017. Through many rounds, only 11 students were chosen for doing internships in Japan.
Based on the discussion between the two sides, students would do internships related to hotel services in Okinawa, a tourist-attracting island. During the internship period, students would get equal pay with Japanese employees, have opportunities to participate in some lessons in communication culture, tourism and services of Japan as well as enjoy free travels and exchanges every month.
In the meeting, Mr. Kazuyoshi Tsukagoshi guided students to complete necessary procedures. He also disseminated some issues about Japanese culture and law as well as the environment, style and working regulations in the hotel where students would doing internships. A wide range of examples and experience were shared with the hope that interns would deeply understand and soon adapt to the new environment.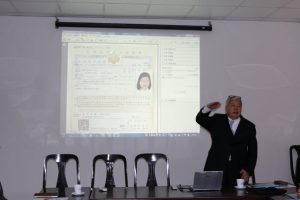 After that, students shared their wishes and hobbies with Mr. Kazuyoshi Tsukagoshi as well as asked him to explain some unclear issues.
After the meeting, students will continue their preparation for the internship course next January.