Signing the Cooperation Program of Scholarship grant and Student Recruitment with Sam Sung Electronics Viet Nam
On September 22nd 2017, the University of Languages and International Studies – Vietnam National University, Hanoi (ULIS-VNU) organized the signing ceremony of official cooperation on scholarship grant and student recruitment with Samsung electronics Vietnam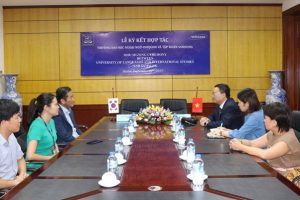 The meeting was attended by Dr. Do Tuan Minh – ULIS's President, M.A. Mai Van Hoa – Vice Director of Cooperation and Development Office, Dr. La Thi Thanh Mai – Vice Dean of Faculty of Korean Language and Culture and especially, Mr. Lee Cheol Ku – Vice Director of Samsung electronics Vietnam.
Samsung electronics Vietnam has become a close partner of ULIS for several years. Two sides have signed the cooperation agreement that requested ULIS to teach Korean for Samsung's staffs. In recent years, Samsung electronics Vietnam has carried out many supportive activities for ULIS through practical programs such as: scholarship grant, Job Fair sponsor and intern recruitment.
At the ceremony, President Minh shared significant success of ULIS recently, especially the Korean Language Recruitment and Training. The president also hoped that Mr. Lee Cheol Ku and Samsung Electronics Vietnam would continue to support the university.
The Vice Director of Samsung Electronics Vietnam expressed his happiness for the success of ULIS. In the context that Korean becomes ever-more prevailed in Vietnam, the positive results in student recruitment of this academic year as well as the expansion of Korean training at 3 levels of education in Vietnam have emphasized ULIS's position in Korean training. Mr. Lee also affirmed that he and Samsung Electronics Vietnam always expected to maintain the ties with ULIS through many cooperative activities.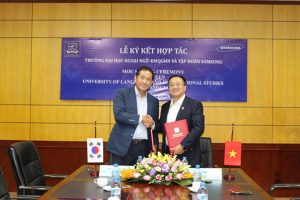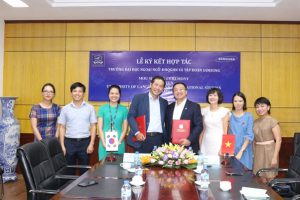 After that, President Minh and Mr. Lee Cheol Ku, on behalf of each side, signed the official cooperation agreement on Samsung Korean Scholarship for third-year students (finishing 2 years of learning program) and senior students (finishing 3 years of learning program), who major in Korean Language and are about to graduate in the recruitment year (students will have chances to be offered internship and employed through Job fairs, conferences or other recruitment activities).
The ceremony ended in a warm and united atmosphere, opening up cooperative activities of the two sides in the future.