Six students of ULIS got the first prize in the 14th Russian Olympiad for universities in VN
The students of University of Languages and International Studies – Vietnam National University, Hanoi (ULIS – VNU) got high achievements in the 14th Russian Olympiad for students who learn Russian of universities in Vietnam
From February 25th – 26th, 2017, at the Center of Russian Science and Culture in Hanoi was held the finale of Russian Olympiad for students who learn Russian at universities in Vietnam. This is an annual competition that the department of Russian cooperation organizes to make Russian more popular in Vietnam.
About 1800 competitors, including 10 ULIS's students, took part in this competition.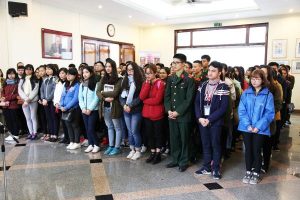 At the finale, students of ULIS and other competitors took many tests on mastering Russian in 3 skills: listening, reading and speaking. Council of examiners (the judges) was composed of Russian linguists, the staff of Center of Russian Science and Culture in Hanoi, the President of association of Russian Teachers and Literature, well-qualified Russian teachers of Vietnam and high school of Embassy of Russia in Vietnam.
The final result, after intense competition, was that 6 students of ULIS won the first prize and they were: Bui Thi Hai Ha, Tran Thi Thuy Duong, Nguyen Thi Hong, Luu Ai Linh, Doan Thi Thu Hien and Nguyen Xuan Hong. Moreover, Nguyen Thi Khanh and Tran Mai Phuong also won the second prize in the competition. In general, the university had the leading result among all participants. In addition, all the first-prize students will be given a scholarship which is the opportunity to study in Russia by the Government of Russia and Vietnam International Education Development Department. The award ceremony is expected to take place in this May.
In 2016-2017 session, Faculty of Russian Language and Culture has enormous achievements with high results in the 14th Russian International Olympiad in Moscow (click here for more detail) and this Olympiad.