The cooperation in Postgraduate training between the University of Languages and International Studies and the Misouri State University
On 19th, May 2017, The University of Languages and International Studies – Vietnam National University, Hanoi (ULIS – VNU) hold a reception for the delegation from Missouri State University (USA).
The meeting was attended by Dr. Do Minh Hoang – Director of Cooperation and Development Office, Dr. Huynh Anh Tuan – Dean of VNU School of Graduate Studies, Dr. Vu Hai Ha – Dean of Faculty of English Language Teacher Education. The delegation of Missouri State University was led by Dr. Jerry Masterson along with two staff.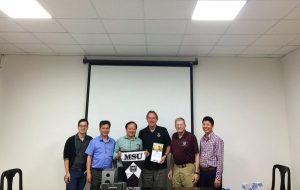 During the meeting, the two sides discussed the cooperation agreement which is possible to be jointly implemented such as the 1 + 1 master program and the 3+1+1 master program in Theories and Methodology of English Education, certified by the Missouri State University.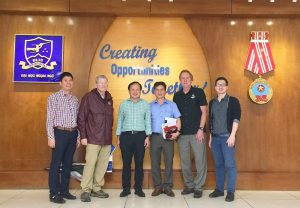 At the end of the meeting, representatives from the two universities agreed to continue to work and promote the multi-sided cooperation activities, especially postgraduate training in the upcoming time