The opening ceremony of Vietnamese language and culture exchange program for students of Resource Exchange International organization in 2018
On May 14th, 2018, the University of Languages and International Studies – Vietnam National University, Hanoi (ULIS – VNU) held the opening ceremony of Vietnamese language and cultural exchange program for the Students of Resource Exchange International, (REI) in 2018
The ceremony was attended by Dr. Do Minh Hoang – Director of Cooperation and Development Office, Dr. Hoa Ngoc Son – Dean of Faculty for Language Education and Professional Development, staff and the students participating in the program.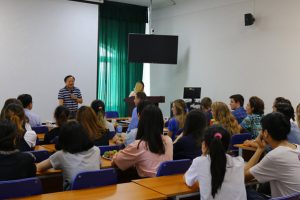 Adressing at the ceremorny, Dr. Do Minh Hoang warmly welcomed 7 students of REI who have believed and participated in the program at ULIS. He hoped that experiences at ULIS and Vietnam would left meaningful memories in their minds.
During the opening ceremony, REI's students and ULIS's volunteers had the opportunity to get acquainted and connect with each other by self-introduction and ULIS's campus tour.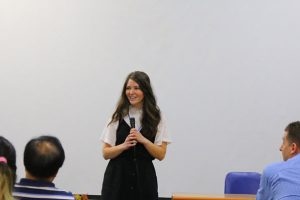 REI is an non-profit educational organization that has been working in Vietnam since 1992 with an aim to "develop Vietnamese people and country." REI partnered with Vietnamese leaders, agencies and enterprises to encourage, equip and uplift the status of Vietnam in the world economic forum. REI-Vietnam helps to strengthen strategic sectors and human resources in Vietnam.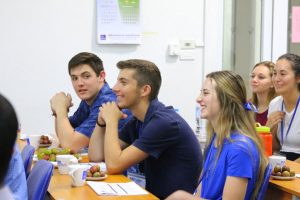 Every year, REI cooperates with ULIS to implement the program of Vietnamese language and culture exchange at ULIS. During the three weeks from May 14th to June 1st, 2018, REI's trainees will have the opportunity to learn about Vietnamese language and culture with many practical trips and interesting lessons such as: making Tò He (toy figurine), visiting the Old Quarter, attending discovery gameshows, listening to ethnic music, traveling to Halong Bay, etc.