The President of the International University of Japan delivered a speech and exchanged with ULIS students
On November 21st, 2017, Mr. Utsuda Shoei – President of International University of Japan, the former Chairman of Mitsui Bussan Company visited University of Languages and International Studies – VietNam National University, Hanoi (ULIS – VNU) and had a talk with students of the Faculty of Japanese Language and Culture (FJLC).
The event received the attendance of M.A Nguyen Xuan Long – ULIS's Vice President, Mr. Yasumori Masahiro – General Director of Mitsui Bussan Vietnam, M.A Dao Nga My – The Dean of the FJLC, representatives of partner institutions, students and teachers of FJLC.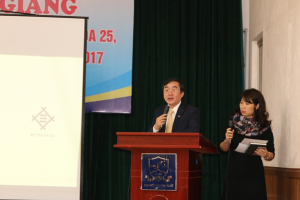 In the talking session, on behalf of ULIS, the Vice President Nguyen Xuan Long, extended his thanks to Mr. Utsuda Shoei for his love and support for ULIS. The Vice President believed that the talking session was a great opportunity for students to learn about the country and people of Japan as well as find potential job opportunities.
With many important positions such as the president of Mitsui Bussan corporation, the head of VietNam-Japan Association and the chairman of the International University of Japan, Mr. Utsuda Shoei has a deep understanding about the economic and educational status of Japan, the relationship between Viet Nam and Japan and the demand for workforce of Japanese companies. Through his speech, students could acquire great information about internationalization and new demand of Japanese companies for workforce.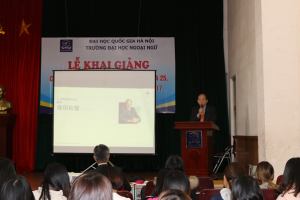 On September 15th 2013, Mr Utsuda Shoei as the president of Mitsui Bussan made a speech in front of nearly 200 students majoring in Japanese about international workforce and necessary qualities of a citizen in the globalization age. On the same day, Prof. Nguyen Hoa – the former President of ULIS bestowed the order of "visiting professor" for him.