The signing ceremony of cooperation agreement with Hanyang University, Korea
The University of Languages and International Studies, Vietnam National University, Hanoi (ULIS – VNU) held a signing ceremony of cooperation agreement with Hanyang University (Korea) on the 17th of November, 2017.
The ceremony was attended by Dr. Do Tuan Minh – ULIS's President, M.A. Mai Van Hoa – Deputy Director of Cooperation and Development Office, Dr. Tran Thi Huong – Dean of Faculty of Korean Language and Culture (FKLC). On behalf of Hanyang University, Mr. Young Moo Lee – Rector, Ki Jeong Lee – Vice Rector in charge of Cooperation and Development, Mr. Daewon Sohn – Vice Rector of University of Sciences, Mr. Kyoung Bok Gwon – Director of Communication Center and staffs took part in the ceremony.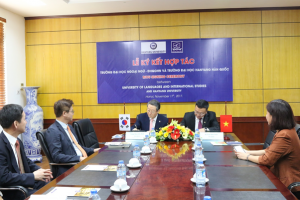 Hanyang University was founded in 1939 and headquartered in Seoul, with ERICA as its branch office in the city of Ansan. The love in Truth and Action is the fundamental principle and educational philosophy of the university. Hanyang University is a private multidisciplinary university with many well-known alumni. It is ranked the sixth among Korean universities with 96 undergraduate programs and 87 graduate programs, including Engineering, Telecommunications, Medicine, Law, Finance, Social Science and Humanities, Music and Sports, etc. The university has 1,120 professors as full-time lecturers, 2,260 part-time lecturers and assistant professors, and over 1,140 teaching assistants. The total university enrollment is 36,000 with 9,400 students studying for Master Degree. Particularly, Hanyang University operates a Korean teaching center for international students.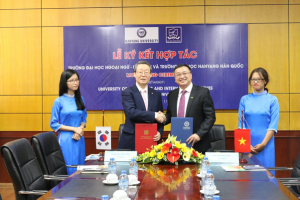 At the ceremony, the presidents of both universities signed the general memorandum of understanding (MOU). Accordingly, the two universities agree to cooperate in terms of scientific research, student exchange and teacher and material exchange. This MOU will be valid for 5 years and include a term on renewal.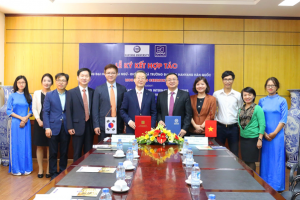 In addition, the representatives from each university discussed potential cooperation activities and agreed on continuing further discussion in the forthcoming time in order to quickly implement the signed agreement.