ULIS actively prepares for the publication of the Journal of International Studies
On November 29th, 2016, ULIS – VNU held a meeting related to the publication of journal of International Studies.
The meeting was attended by Dr. Do Tuan Minh- President of ULIS, Dr. Nguyen Xuan Long- Vice-President of ULIS, Prof. Nguyen Hoa – President of Science and Training Council, Assoc. Prof. Dr. Lam Quang Dong – Director of Science and Technology Office, Assoc. Prof. Dr. Do Hoang Ngan- Vice-Director of Science and Technology Office, M.A. Le Thi Khanh Trang- Director of Finance and Planning Office.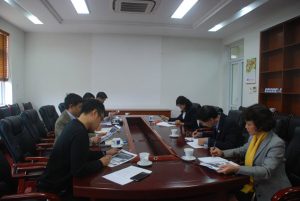 Journal of International Studies is within the plan of forming a specialized scientific journal about international studies as an independent magazine under the supervision of ULIS. Its content focuses on language education and international studies as well as related aspects of social sciences and humanities. The journal will be created in accordance with VNU's plan to develop the system of scientific journals. In addition, the launch of the journal with 6 volumes per year (tentatively) and 120-200 pages each volume will also encourage the staff to actively boost their publications, improve the quality and quantity of products and scientific works within the university together with enhancing the general prestige and position of ULIS regarding Science and Technology. The university is investing in and actively preparing for the project.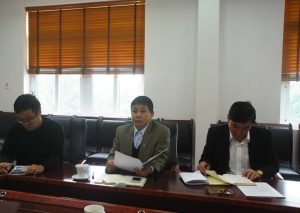 At the beginning of the meeting, on behalf of Science and Technology Office, Mr. Dong presented the progress report on the launch of journal of International Studies. He pointed out the completed tasks as well as the missions in the time to come. After effective working days, the content of the first circulation was nearly finalized. The related preparations regarding personnel, facilities and others were also carefully made.


After that, attendants discussed the development orientation of the journal as well as the necessary steps to launch the first volume. A wide range of suggestions and proposals were put forward to create a scientific journal which is prestigious both inside and outside the country.
At the end of the meeting, Mr. Minh recognized and highly appreciated the preparation for publishing the journal of Science and Technology Office. Moreover, he also emphasized the note-worthy aspects that need implementing in the upcoming time: Take the last steps to publish the journal in January, 2017; prepare facilities to operate the journal, overhaul and prepare personnel; in term of the tendency towards the journal development in the first period, the journal should be considered as an independent unit of ULIS and a top international one in the time to come; propose changing regulations of internal spending and prepare necessary finance in accordance with the schedule.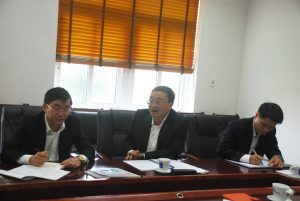 It is expected that the first volume of the journal will be launched in January, 2017.