ULIS Commencement 10/2018
At this commencement, all of the new graduatees, teachers, and parents shared a joy and pride as the students had received the certificates and the University had successfully educated these students.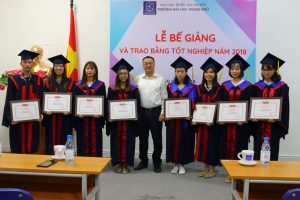 On 12th October, 2018, ULIS-VNU solemnly held a commencement for 96 graduatees from the QH.2012 intake; QH.2013 intake; QH 2014. intake; and from doubled major program.
The ceremony was attended by Dr. Do Tuan Minh, ULIS's President, represetatives from the University's units, 58 graduatees, and their parents.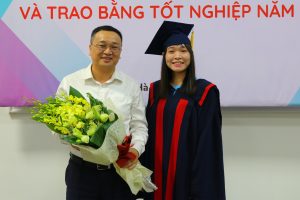 At the ceremony, Dr. Do Tuan Minh shared a proud feeling when witnessing the journey of becoming mature of all the graduatees from day one.
He said: "Even though this is the second time the University organizes a commencement for students who have missed the main commencement in July, but my feeling remains the same…"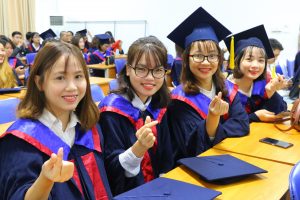 Congratulations to the graduatees from the President
"As a president, i myself, once again congratulate all of you since your graduate study at this University has done and dusted. Thanks for having chosen ULIS at the first place. This ceremony will be an opening point to different directions with more challenges and obstacles on the way. But, nevertheless i strongly believe that you all will overcome all of the difficulties and achieve a lot of success afterall. That faith stems from the proud characteristics of Ulisers "Once Uliser, forever Uliser!". I wish you the best of luck for all choices and directions you may go for. I also want to show my gratitude towards all of the parents presenting in here as you have always been supportive all the way through our students' life". He says.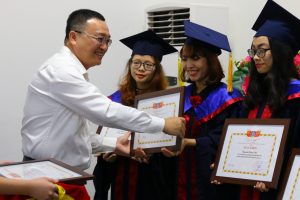 21 prominent students who received distintion degrees on the doubled major program were presented with commendations from the President.
What has been said by the graduatees and their relatives?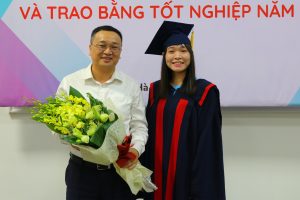 On behalf of this time graduatees, Vu Thi Tuyet Ngan, graduated the Fast-track program in Japanese language and Culture with distintion said: "I am extremely overwhelmed and privileged to stand on this stage to have my say after 4 years sticking around this 'Charming' ULIS. I mentioned 'charming' as all along the way around at this University, i have met a lot of charming teachers and friends…"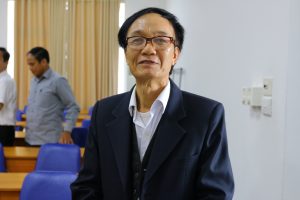 Speaking to the reporter, Mr. Dang Xuan San, an uncle of a graduatee said: "I heard the speech of the President and i really appriciate it. I felt how much solemnly the ceremony was held and how much the University treasures all of the late graduatees today. Although this is the third time The University organizes this year's commencement, but it has done a good job, really. I would say, if we gave 100 points to appreciate the effort to organize a main official commencement, we would have to give 200 points for such event like this…"
Other photos from the events: