ULIS participated in 2016 IAA workshop in India
Replying the invitation of SRM University (India) and Shizouka University (Japan), the working group of ULIS – VNU attended and presented a report at 2016 IAA International workshop from November 28th to December 1st 2016.
The delegation included Assoc. Prof. Dr. Ngo Minh Thuy- Vice-President, Dr. Huynh Anh Tuan- Dean of Faculty of Graduate Studies and Mr. Do Tuan Long- a postgraduate and lecturer of Faculty of Language Education and Professional Development. This was the third annual IAA workshop sponsored by Ministry of Education and Science of Japan following the idea of Shizouka University. SRM University and Shizouka University collaborated to hold the workshop with the attendance of universities which were also the partners of Shizouka University from 9 countries and regions: India, Bangladesh, Indonesia, Hong Kong, Malaysia, Japan, Sri Lanka, Thailand and Viet Nam.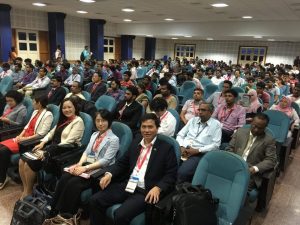 IAA stands for Inter-Academia Asia (Community of Asian universities). The organization aims to help Asian universities enhance the quality of training programs, especially graduate training programs in general and master programs in particular via the international cooperation. This is also an occasion for managers of graduate training to share their experience and cooperation initiatives and for graduates to share research activities and achievements, sharpen their knowledge and skills and reinforce the cooperation in professional studies.
The 2016 IAA Workshop was divided into 2 groups: Group 1 consisted of professional sessions with 27 reports in the form of presentation and 70 reports in the form of poster presented by graduates; Group 2 consisted of 2 sessions of international cooperation in term of graduate training with 9 reports of universities.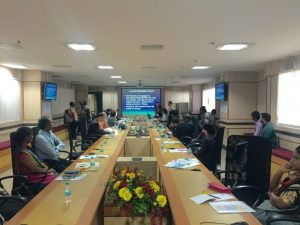 The report of Ms. Thuy and Mr. Tuan presented not only the vision, mission and position of ULIS in the education system of Viet Nam but also its contributions and achievements in terms of graduate training. The report also pointed out models and experience of the international cooperation between ULIS and universities in Japan and other ones in the world, especially regarding graduate training as well as suggested some ideas about cooperation programs in the time to come. It attracted the attention of attendants with the promise of new cooperation opportunities with universities in Japan and other ones in Asia in the upcoming time.
Furthermore, Mr. Long presented a report on English cognitive semantics and received positive feedback. The chairman of subcommittee, Assoc. Prof. Dr. Pornapit Darasawang- King Mongkut University in Thailand, expressed a high appreciation of the new approach of the topic and hoped that the author would further the topic to develop English materials.