ULIS signed cooperation agreement with National Taipei University of Business
On April 7th, 2017, University of Languages and International Studies – Vietnam National University, Hanoi (ULIS – VNU) held the signing ceremony of cooperation agreement with National Taipei University of Business (Chinese Taipei) (NTUB).
The ceremony was attended by Dr. Do Tuan Minh – ULIS's President, Dr. Do Minh Hoang – Director of Cooperation and Development Office, Dr. Hoa Ngoc Son – Dean of Language Education and Professional Development, Dr. Do Thi Thanh Huyen – Vice Dean of Faculty of Chinese Language and Culture (FCLC).
From Chinese Taipei, there were Mr. Ruay-Shiung Chang – President of NTUB, Mr. Wei-Heng Lin – Dean of Accounting Department of NTUB, Mrs. Joanna Liu – External Relations Manager for Southeast Asia, and especially Mr. Tung-Yi – Counselor of Science and Technology, Economic and Cultural Office of Taipei in Hanoi.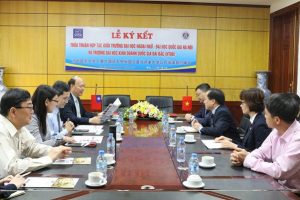 At the ceremony, Dr. Do Tuan Minh emphasized the importance of cooperation in Chinese language in development strategy of ULIS. As an educational institution with 62-year history of Chinese language training, ULIS and NTUB have great potential for cooperation in the future. He hoped that the relationship between two sides would be ever-more insightful.
Representing the NTUB, Mr. Ruay-Shiung Chang extended his thanks to ULIS for the thoughtful reception. He also expected that the two sides would actively boost cooperation in the future based on the terms signed today.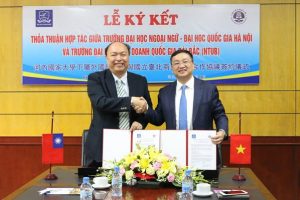 Then, representatives of the two universities have signed a cooperation agreement, specifically programs with the Bachelor of Business degree conferred by NTUB in the form of 3+1 partnership, short-term internship program in Chinese Taipei for fellows of the FCLC, creating an opportunity of learning the second bachelor's degree of NTUB for them and the Vietnamese experience/internship program for NTUB's students.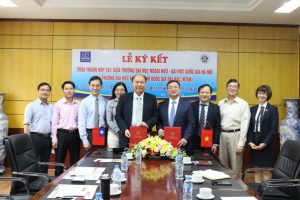 During the ceremony, the two sides exchanged and discussed the cooperation plans in the coming period.