ULIS signed the full-blown cooperation agreement with BIDV Cau Giay in the period of 2018 – 2023
On June 20th, 2018, the signing ceremony of full-blown cooperation agreement between University of Languages and International Studies – Vietnam National University, Hanoi (ULIS – VNU) and Bank for Investment and Development of Vietnam (BIDV), Cau Giay branch was organized at BIDV tower, 263 Cau Giay street, Hanoi.
The ceremony was attended by Dr. Do Tuan Minh – ULIS' President, Assoc. Prof. Ngo Minh Thuy – ULIS' Vice President, Nguyen Xuan Long – ULIS' Vice President and leaders and experts of units under the university. From BIDV, Cau Giay branch, Director Bui Minh Khai, Deputy Director Nguyen Cao Minh, Deputy Director Pham Anh Hung and their subordinates took part in the ceremony.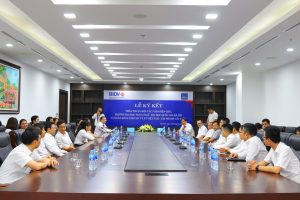 ULIS and BIDV Cau Giay have been developing the cooperative relationship for 13 years (since 2005). In 2013, two sides signed a formal cooperation agreement. In the period of 2013-2018, BIDV Cau Giay has collaborated with ULIS in various activities such as granting annual scholarships, sponsoring the 60th anniversary of ULIS and providing banking services to staff and students.
At the signing ceremony, President Minh and Mr. Bui Minh Khai represented two sides to sign the MOU of comprehensive cooperation in the period of 2018-2023. BIDV Cau Giay affirmed that the implementation of this cooperation agreement was an important task, meeting the operation and development requirements of the two sides in light of exploiting each side's strengths, building a multi-dimensional and systematic cooperation and forming a timely response mechanism among units of the two sides. The two sides committed to closely cooperating and implementing cooperation plans towards a long-term and sustainable relationship based on the plan of each specific period. BIDV Cau Giay committed to providing ULIS's lecturers with preferential and reasonable interest rate. ULIS prioritizes the use of banking services provided by BIDV Cau Giay.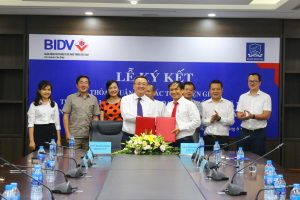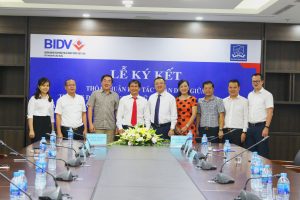 In particular, in the period of 2018-2023, BIDV Cau Giay will sponsor a scholarship package worth 250 million VND (50 million VND per year) for students of ULIS.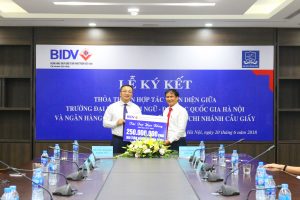 Addressing at the ceremony, Mr. Bui Minh Khai expressed his gratitude to ULIS for choosing services and supporting activities of BIDV Cau Giay. The bank always provides preferential policies for ULIS, its teachers as well as students. He hoped that the two sides would continue to promote their strengths and enhance the efficiency of cooperation. The signing ceremony is the beginning of a new journey requiring the practical implementation together with specific plans among units.
By the same token, President Minh spoke highly of the cooperation relationship with BIDV in general and BIDV Cau Giay in particular. In the efforts to improve the satisfaction of staff and learners, he wished to continuously receive the support and cooperation of the Bank in various fields such as service provision, foreign language training and exchanges.
The signing ceremony of the scholarship and the cooperation agreement in the period of 2018 – 2023 ended successfully, creating a new page in the cooperative relationship between ULIS and BIDV.