ULIS welcomed leaders of Mitsui Bussan Vietnam
On March 8th, 2017, the University of Languages and International Studies (ULIS) had a meeting with leaders of Mitsui Bussan Vietnam Company.
Mr. Konishi Shinichiro, the outgoing CEO in Vietnam came to bid farewell to the school. He also introduced Mr. Moriyasu Masahiro, the new CEO, who would start his term in Vietnam from April 1st. Also visiting the school was Mr. Fuji Koichiro – Director of Administration and Mr. Le Thanh Hieu – Deputy Director of Administration.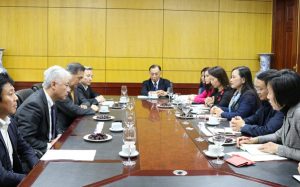 Attending the Mitsui Bussan Vietnam reception, there were Dr. Do Tuan Minh – ULIS's President, Assoc. Prof. Dr. Ngo Minh Thuy – ULIS's Vice President, Dr. Do Minh Hoang and Dr. Bui Dinh Thang – Head and Deputy Head of Cooperation & Development Office, Dr. Dao Thi Nga My – Dean of the Faculty of Japanese Language and Culture, M.A. Than Thi Kim Tuyen and Dr. Tran Kieu Hue – Deputy Dean of the Faculty of Japanese Language and Culture.
Being a branch of the parent company in Japan, Mitsui Bussan Vietnam company has been cooperating with ULIS since 2007. During the past 10 years, the company has continuously sponsored many projects such as international seminar on teaching Japanese and held business communication culture course as well as training courses for Japanese language teachers.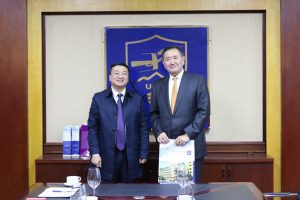 Addressing at the intimate reception session, President Minh extended his profound thanks for the enthusiastic support of Mitsui Bussan company for many years. The cooperation between two sides has proved the effectiveness of the relationship between ULIS and the enterprise. President Minh hoped that the Mitsui Bussan company would continue to support ULIS in the future, especially in Japanese teaching. He expected that Mr. Konishi Shinichiro would keep track of the development of ULIS and wished Mr. Moriyasu Masahiro a wonderful time working in Vietnam
Mr. Konishi Shinichiro and Mr. Moriyasu Masahiro were both grateful for the sentiments from the ULIS and believed that the relationship between 2 sides would continue to grow in the upcoming time.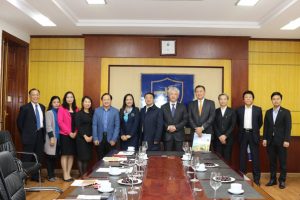 The reception session closed in an intimate and cozy atmosphere.