ULIS worked with Virginia Tech Language and Culture Instittute (VTLCI)
On December 6th, 2016, ULIS – VNU welcomed and worked with the delegates from Virginia Tech Institute of Language and Culture (USA).
Regarding ULIS, the meeting was attended by Assoc. Prof. Dr. Ngo Minh Thuy – Vice-President, Dr. Do Minh Hoang – Director of Cooperation and Development Office, Dr. Hoa Ngoc Son – Director of Center for International Education, Dr. Vu Hai Ha – Dean of Faculty of English Language Teacher Education, M.A. Khoa Anh Viet – Director of Center for Information and Technology, Communication and Learning Resources, M.A. Nguyen Bich Ngoc – Vice-Dean of Faculty of Language Education and Professional Development.
Regarding VTLCI, there was the presence of Mr. Donald R. Back – Director and Ms. Patricia Parera – Assistant of Director in charge of Cooperation and Development.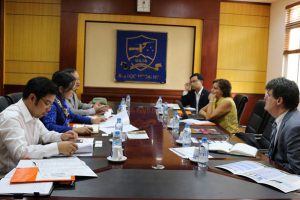 Virginia Polytechnic Institute (known as Virginia Tech) is a public institute in Blacksburg, Virginia, USA. It is one of the largest and leading institutes in terms of research in the Commonwealth of the U.S with 225 undergraduate and graduate programs for 31,000 students each year. Institute for Language and Culture is directly under Virginia Tech and develops with the tendency of fostering multicultural understanding.
At the beginning of the meeting, Mr. Hoang extended his thanks to Mr. Donald R. Back and Ms. Patricia Parera for their kindness to visit and cooperate with the university. On behalf of the Board of Management, he gave the representatives of Virginia Tech a brief introduction of ULIS- a prestigious university for language education and research in Vietnam with a wide range of undergraduate and graduate programs, opening opportunities of cooperating with Virginia Tech in the upcoming time.
Mr. Donald Back thanked the university's representatives for their warm welcome. He believed that VTLCI and ULIS would have a lot of opportunities to promote the cooperation in the time to come.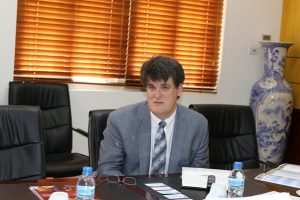 Afterwards, the representatives from the two sides discussed potential cooperation activities such as joint training, student exchange, short-term courses, etc. to find out the most effective ones.
At the end of the meeting, Ms. Thuy thanked Mr. Donald Back and Ms. Patricia Parera for their efforts to build the cooperation between the two sides. She hoped that agreements would soon be reached to open opportunities for the cooperation between ULIS and VTLCI as well as Virginia Tech.