University of Languages and International Studies (ULIS) held briefing meeting of January, 2017
On January 4th, 2017, ULIS- VNU held the briefing meeting of January, 2017.
The meeting was attended by the Board of Management of ULIS, Directors of functional offices, centers, Faculty of Graduate and Faculty of Teaching and Fostering Languages. Dr. Ngo Minh Thuy – the Vice President of ULIS chaired the meeting.
In the meeting, leaders of units reported and made comments on the activities of December. In December, with effort s of units, ULIS successfully organized many activities. The units basically complete their tasks in accordance with the plan and the report of ULIS's President in the 4th quarter of 2016.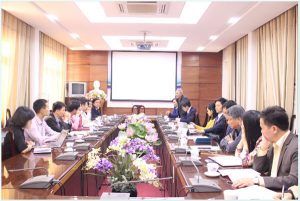 In addition, the participants also discussed and exchanged opinions about the tasks in January, especially the tasks which need the coordination among units and the general direction of the Management Board of ULIS. January is the first month of the year 2017 and also the month of the Lunar New Year. Therefore, the units are all aware that good implementation of the tasks in January will be a bright start which is fundamental to efficient work of the university in the new year. With each piece of work such as staff and human resource organization, science and technology, education quality assurance, testing, cooperation and development, politic – ideology and students, communication, facilities, finance. Leaders of units also proposed specific plans and orientations for implementation.
After listening to comments and suggestions exchange, Vice President Ngo Minh Thuy concluded for each area of work and reminded each unit about the deadline to complete the tasks of January. She also noted the units on making plans with highly feasible deadlines for each month. Vice President also noted the units, especially the Administration Office, Planning and Finance Office, General Administration Office to prepare for the activities on the occasion of the New Year for ULIS's staff and students to have a safe, orderly, civilized, happy and warm New Year's holiday.
The meeting ended in an atmosphere of enthusiasm picked up by participants, showing the determination to accomplish all the tasks for a successful school year.