University of Languages and International Studies (ULIS) promoted cooperation with ZfA organization
On August 18th, 2017, University of Languages and International Studies – Vietnam National University, Hanoi (ULIS – VNU) had a meeting with Dr. Joerg Helmke – Advisor of the Central Agency for German Schools Abroad (ZfA) (The Federal Republic of Germany)
The meeting was attended by Dr. Do Tuan Minh – President of ULIS, Dr. Do Minh Hoang – Head of Cooperation and Development Office, MA. Ta Thi Hong Hanh – Vice Dean of Faculty of German Language and Culture, Dr. Lai Thi Phuong Thao – Vice President of Foreign Language Specialized School (FLSS), Dr. Le Tuyet Nga – Lecturer of Faculty of German Language and Culture.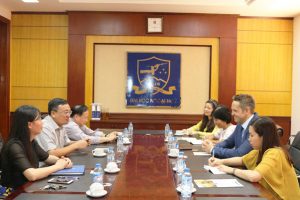 In this meeting, Dr. Do Tuan Minh introduced ULIS – one of the most prestigious universities teaching German language in Vietnam – to Dr. Joerg Helmke. He also introduced FLSS – the only high school specializing in educating foreign languages in Vietnam. ULIS's President expressed his desire to promote cooperation with ZfA in the field of exchanging teachers, students and other potential areas.
Dr. Joerf Helmke extended his sincere thanks for the thoughtful welcome and appreciated the work of teaching German at the ULIS as well as at the FLSS. He promised to keep supporting for the collaborative activities between ZfA and ULIS.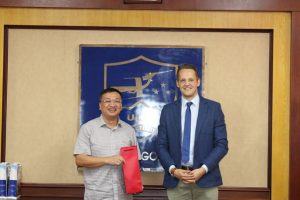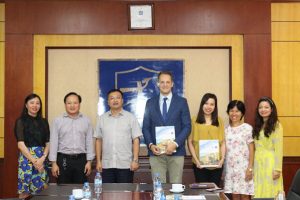 The meeting closed with belief in the development of cooperation between the two sides.