University of Languages and International Studies worked with delegates of Jean Moulin University 3 about the cooperation in training.
On Ferbuary 20th 2017, University of Languages and International studies – Vietnam National University, Hanoi (ULIS – VNU) has welcomed and worked with Prof. Olivier Garro – Director of International Francophone center, Jean Moulin Lyon 3 University ( France Republic )
The meeting was attended by Assoc. Prof. Dr. Ngo Minh Thuy – ULIS's Vice-President, Dr. Do Minh Hoang – Director of Cooperation and Development Office, Dr. Huynh Anh Tuan – Director of Graduate Office, Prof. Dinh Hong Van – Dean of Faculty of French Language and Culture (FFLC), Dr. Dang Thi Thanh Thuy and Prof Nguyen Thanh Hoa – Vice Dean of FFLC.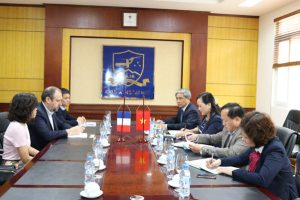 Jean Moulin Lyon University 3 was founded in 1974 and is the leading in social sciences and humanities education in France. As a member of Lyon University, the university welcomes nearly 26700 students every year and there are also many faculties for them to register. With a view to expanding to Europe and the world, it has over 350 cooperation agreements with partner universities from 57 countries around the world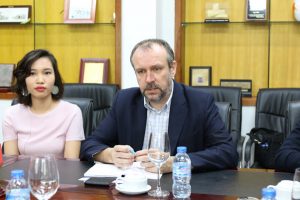 At the meeting, the two sides discussed the possibilities of cooperation in the field of research and post-graduate education. The two sides agreed to establish a council to assess the probabbility of cooperation among ULIS – DAV – Lyon 3 to implement cooperation programs, increase opportunities for students majoring in French to attend MA training courses and promote the preparatory work for the opening of MA partnership program in French language at ULIS-VNU.
Prof.Olivier Garro accepted the invitation to join the specialized Council to prepare for the international seminar which is going to take place at ULIS-VNU on July 11th, 2017.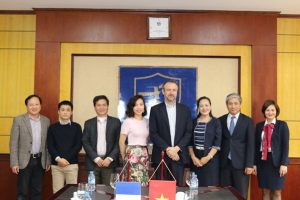 Closing the meeting, the parties agreed to continue to discuss the collaborative training program in the upcoming time.
After the end of the meeting, Prof. Olivier Garro had a talk with students of the FFLC about the topic: "The philosophy on sharing knowledge of the Francophone Community ". He also introduced a number of learning opportunities which are being opened for graduates of the Faculty. During the event, students asked many questions and actively participate in the debate with Prof. Olivier Garro.