Message from the President of ULIS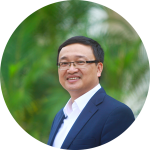 During a 60 year history of development, the University of Languages and International Studies – Vietnam National University, Hanoi (ULIS – VNU) has become a famous center for research and training on languages, international studies and other related majors. ULIS has contributed to the country's development by training high-quality human resources, conducting research and providing international standard products and services, with an emphasis on the active learning, creativity, honesty, and sense of responsibility, as well as the ability to live and work in a competitive, multi-cultural environment.
The success of ULIS has resulted from many factors: the devotion of generations of talented, enthusiastic lecturers; the creativity and eagerness of students to learn; the support of excellent administrators; the proactive cooperation of domestic and overseas donors and partners; and the support from a variety of sectors in the society..
ULIS is aware of its strengths, weaknesses, and opportunities as well as its challenges, and is determined to overcome all hardships, and to utilize all resources to move towards sustainable development. This confidence originates from the solidarity and consensus of faculty members, administrators and students of ULIS. To realize the mission of ULIS, three key elements are required: high-quality human resources, a state-of-the-art university administration, and sufficient resources. The ongoing development of ULIS will be based on three pillars:  responsibility, opportunities, and community. The university's developmental philosophy is represented by the phrase: "Creating Opportunities Together".
Higher education is a building block for human beings to develop their competencies and knowledge, as well as the necessary skills and character for life in the modern world. These qualities do not come by chance, but through a process of joint development. We can be proud of and confident in the sustainable development of ULIS in the coming years which is based on solid foundations including the consensus and determination of all individuals at ULIS as well as the support and cooperation from ULIS's partners. Together, we will build upon and elevate our success and strengths in training, research and the supply of services to new heights.
ULIS – VNU welcomes you to our campus to experience the joy of exploring your potential and of joining us to create new opportunities together to realize great things in the future.