Korean Studies Center

| | |
| --- | --- |
| | Block A3, ULIS-VNU |
| |   |
| | |
| | ulis.akscore@gmail.com |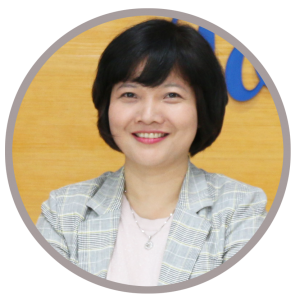 Dr. Tran Thi Huong
Director

The Korean Studies Center has the function of researching and organizing research on topics at all levels, organizing seminars, lectures, etc.

Consult training activities, scientific research, business cooperation programs with the school…
Provide academic, cultural, document translation services…

Organize conferences, seminars, scientific talk shows on Korean studies and issues related to Korea.

Organize research programs on Korea and related issues.

Develop learning materials and textbooks on Korean studies (language, culture, history).

Organize intensive skill training classes such as advanced presentation skills, translation and interpretation skills, Korean language teaching methods.

Liase with member units of the University and the centers, universities, enterprises, and organizations of Korea.

Directly implementing and managing the project "Building a Key University of Korean Studies in Vietnam" – AKS Core for short, sponsored by the Central Academy for Korean Studies (AKS) from August 1st, 2019 to present. The project is expected to operate in 5 years, with many important items related to the development of research and specialized training in Korean studies in Vietnam.

Organized 10 internal professional training sessions for faculty members to exchange and improve their professional fields (05 sessions in 2019 and 05 sessions in 2020).

Organized 04 professional training sessions lectured by foreign experts (02 sessions in 2019 and 02 sessions in 2020).

Coordinated to organize 02 International Seminars on Korean Studies (November 27th, 2019 and January 29th, 2020), bringing together more than 50 domestic and foreign professors, PhDs, lecturers, leading experts in Korean studies.

Organized a meeting (November 26th, 2019) between the Governing Board of ULIS, the Project Management Board, members of the project and the AKS Core Project Management Board to discuss the development of Korean Studies at ULIS-VNU in particular and Vietnam in general.

Signed 01 MOU with the project "BK21 plus talent fostering" of the Faculty of Korean Language and Literature, Chonnam National University, Korea (July 2019).

Signed 02 MOUs with the Faculty of Korean language, Chulalongkorn Royal University, Thailand (March 2020) and Korean Cultural Center, Ehwa Women's University, Korea (April 2021).

Published 10 articles in domestic specialized journals, translated 2 monographs (Comparative Linguistics, Korean cultural and linguistic content that you need to know when learning Korean), published 2 monographs (General Korean Studies in Vietnam for the period 2015-2020, Specific terms in Korean language).

Create the first database page to summarize research and activities related to Korean studies in Vietnam.
| | |
| --- | --- |
| | |