By Planes
Wherever you're travelling from, you'll most likely be flying to Vietnam. And once you touch down on Vietnamese soil, the good news is that The University has a great link with Noi Bai International Airport.
The University is about 20 km away from Noi Bai International Airport. It is also located by Pham Van Dong highway which links the Airport to Hanoi central.
From the Airport you can pick out some options to get to the University.
Car: You can either take a taxi directly outside the Airport or book some types of pick-up service such as Grab or private businesses. The cost is around 200,000 to 300,000 VND (approximately of $13).
Bus: there are 2 options for you to choose from.
+ Option 1: Bus number 86, a special service, which will take you round from the International Terminal to the city center, and from the city center, you will have to take another one or two buses to get to the University. The fare is 30,000 VND.
For more information, please access
http://www.transerco.vn/Default.aspx?pageid=366&mid=538&action=docdetailview&intDocId=1274&intSetItemId=154&breadcrumb=154
+ Option 2: Bus number 07, a standard service. If you take this service, you will have to make your own way from the international Terminal to Domestic Terminal before looking for the P2 parking area, where the buses terminate. This service will run by the University entrance gate so that you can drop off at the bus stop on the opposite side of the entrance gate. The fare is 8,000 VND .
For more information, please access:
Ask for help from the University: you are more than welcomed to contact us to arrange for you a pick-up from the Airport in advance.
For more information, please contact: Ms. Linh – Specialist of Development & Cooperation Office - Mobile: 096.8888.246 - Email: linhtranru8890@gmail.com
By Trains
If you are a Chinese student or you plan to travel to Hanoi by trains, there is a particular train for you. The service runs daily from Nanning (China) to Gia Lam station (Hanoi).  The fare costs about 750,000-800,000 VND.
For more information, please access:
http://www.duongsatvietnam.com/tau-lien-van-quoc-te/vetauhanoinamninh
Train
The University is roughly 6 km away from Hanoi Station and 100 km away from Gia Lam Station. There are daily direct trains from these two stations to a lot of destinations in Vietnam.
You can plan you route with Vietnam railway: http://www.duongsatvietnam.com/home
Coach
Regular daily direct coach services run from Hanoi to locations around the country. The University is only a 5-minute walk from My Dinh Coach Station.
You can find out coach times and routes with http://benxehanoi.vn/
Car – taxi service
You can book taxi service by calling directly to the company, catch a taxi on your way, or book a grab. Also, you can rent a car as long as your driving license is expected in Vietnam.
Local bus services
Hanoi has excellent city bus services. You can catch local and intercity buses from all main bus stations and bus stops.
Find out more, please access: http://timbus.vn/fleets.aspx
Bike, motorbike or foot
Hanoi is fairly flat and there is plenty to see, especially the city center, so the best way to discover the city is by motorbike, bike or on foot. You can also rent a bike or a motorbike, or simply book a grab.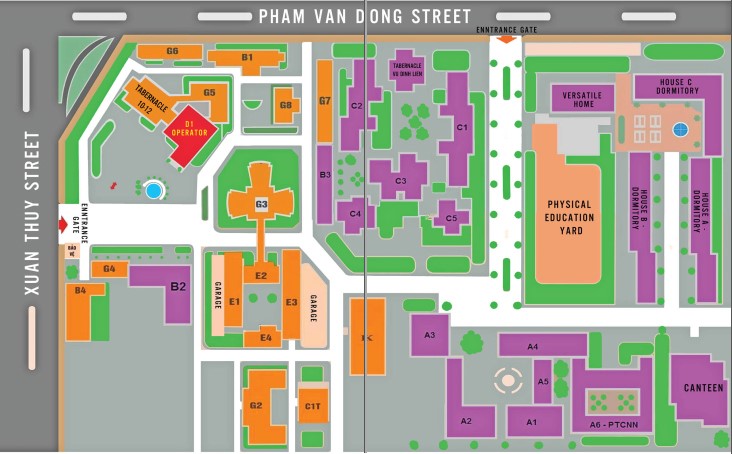 Lecture rooms The University has over 200 high standard lecture rooms, which are arranged at 5 fully-equipped lecture halls including air-conditioners, projectors, speaker system. Particularly, a lecture hall is equipped with 400 laptops and a translation cabin room, and a rich library with more than 35,000 books. The University's lecture halls can respond to an exam of up to 6,000 candidates. In addition, the lecture halls can meet all the teaching and learning activities outside the office hours.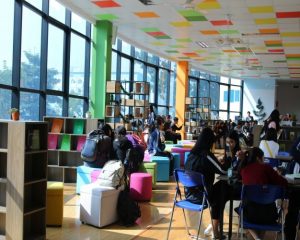 Opened in December, 2018, the self-study space was part of the plan of the University to create a learning place for students so that they could develop their creativities, express responsibility, and connect with the community.
ULIS - SUNWAH Building
Located in a prime location near the VNU entrance gate, ULIS - SUNWAH Building is designed modernly, luxuriously, and fully equipped for such purposes as organization of conferences, seminars, exhibitions, etc. With the scale of one large hall (180 seats), one large conference room (80 seats), two small conference rooms (30 seats), and VIP lounges, ULIS – SUNWAH Building is a place that can meet demands for organizing a number of types of activities, events, festivals, parties, etc.
We have a variety of hall of residences accommodation
Foreign Language Dormitory
Address: On campus
Contact: 024-37547-033 /kytucxangoaingu@gmail.com
Prices: $200/month, single and multiple occupancy (up to 2)
Prices: $200/month, single and multiple occupancy (up to 6)
For more information, please access: http://css.vnu.edu.vn/en/introduction-about-foreign-languages-dormitory
Vietnam National University Dormitory
If students prefer to live in our dormitory, ULIS offers nearly 400 single and multiple occupancy rooms at My Dinh's Dormitory.
The Dormitory building is off-campus, 10 minutes away from ULIS and other campuses. The area is also connected to many bus routes, students can easily travel to other locations in Hanoi from their dormitory.
Address: Ham Nghi street, My Dinh 2, Nam Tu Liem, Hanoi
Contact: + 84 94 219 24 48
Private rented accommodation
Private rented accommodation in the city is mostly in shared student houses or flats, and we can help you find suitable accommodation, good landlords, and meet other students to share with too.
We recommend that you to contact us before you make your own decision so that we can give you advice and list of decent private accommodations or landlords.
However you decide to find a house, please make sure you do not pay money in any shape or form to a landlord or agency until you have seen, in person, the house or flat you want.
If you have any questions about securing accommodation or would like your contract checked, our team will be happy to help.
For further information or advice, please contact:
Ms. Linh – Specialist of Development & Cooperation Office - Mob: 096.8888.246 - Email: linhtranru8890@gmail.com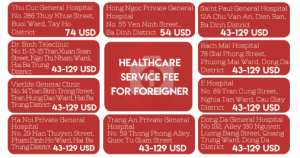 As a student of ULIS-VNU, you can enjoy the healthcare system of VNU. We have a hospital in place within campus.
We also provide you with a list of hospitals and clinics, as well as their addresses and price per examination. When in need, students are recommended to visit the listed healthcare providers, or feel free to look up for other locations as well.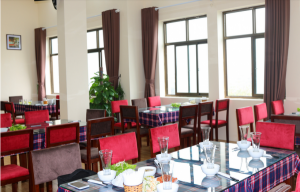 On campus, we offer diverse dining options – from local food, vegetarian, to university dining halls, canteen, and cafes, pho, bun cha, bang mi, banh cuon, and much more.
Hanoi is renowned for its culinary culture, and as a students of ULIS, you can explore the world of food in markets, restaurants and shopping malls within and without campus.
ULIS – ZONE7
As a canteen for the University's staff, lecturers and students, ZONE7 always fulfills its non-profit goals with safety and delicious, convenient criteria. With a team of skilled chefs and staff, and comfortable and cozy facilities, ZONE7 can perfectly meet the requirements of customers inside and outside the University in terms of Vietnamese cuisine, traditional foods, daily meals, banquets for domestic and foreign guests' receptions.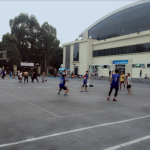 Put into operation and use since 2015, the Sports Complex of ULIS meets all the demands for holding competitions and popular sports such as 7 people football, table tennis, volleyball, badminton, tennis, gym, yoga, martial arts and other collective sports activities. Particularly, a gymnasium with a capacity of 1,500 people and a 2,000 m2 outdoor courtyard will be the ideal place to organize large-scale events.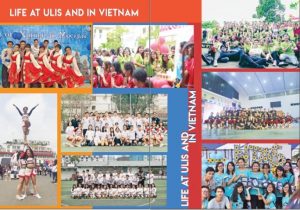 There are many student-run clubs at the University, covering from sport, volunteering, dancing, culture, language, etc.
Take to the stage, perform in front of audiences or even go to remote areas. Whatever you are into, you'll find lots of like-minded students who are there to share with you.
Here's just some of what's on offer: (A total of 28 clubs of ULIS and 16 clubs of FLSS)
Chinese Language club - German Language club - Green Ulis club – English Translation & Interpretation club – UlisYo club – AC4U club – Club of Event Organization – Japanese Language club – Arabic Language club – Youth Power club – French Language club – Step Up Dancing club – Blood Donor Fundraising club – Football club (S.H.O) – English club – Light Faith club – Cheer-leading (Gummy club) – Teacher Skills Development club – FLSS Rock club – FLSS Social work club – FLSS Music club, FLSS Environment club and many more.
The Students' Support Center
Our Students' Support Center is here to make your life as a student better. Run for students, it promotes your rights and looks after your wellbeing while you're at ULIS.
The Center is buzzing with young, motivated, dedicated and inspiring leaders who are keen to take good care of other fellow students. Its mission is to make a positive and good influence on every ULISer.
The Center is there also to give you support and advice on everything from housing to health. You'll be provided with access to activities and services that broaden your horizons, increase your employability, bring lifelong friends to you and support you throughout your time here as a student.
For more information, please access: https://www.facebook.com/ulis.SSC/ - ulis.hotrosinhvien@gmail.com