A vibrant journey for foreign students and teachers to warmly welcome Lunar New Year 2018
On January 27th 2018, the University of Languages and International Studies – Vietnam National University, Hanoi (ULIS – VNU) organized a trip to Soc Son, Hanoi for foreign students and teachers who are learning and working at ULIS.
This activity is prepared on the occasion of the upcoming 2018 Lunar New Year, with the purpose of creating a close-knit relationship between foreign students and ULIS teachers. Simultaneously, this is also a chance for foreign students and teachers to understand more about Vietnamese culture and traditional time-tested beauty.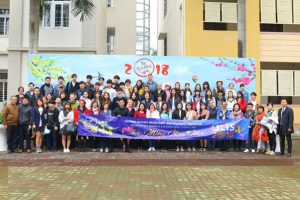 During the day, foreign teachers and students went on a sightseeing tour to Giong Temple relic complex (Trinh temple, Mother temple, Non Nuoc pagoda, Thuong temple, etc.) and Thanh Chuong Viet Palace. Vietnamese architecture and traditional culture conquered the heart of foreign visitors.
In addition, teachers and students participated in art performances to celebrate the new year. All members shared their feelings and emotions while studying and working at ULIS on this special occasion. With The Lunar New Year atmosphere coming closer, teachers and students extended their auspicious wishes and luck to one another.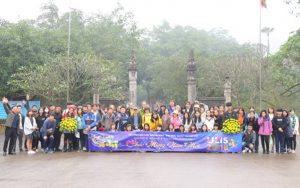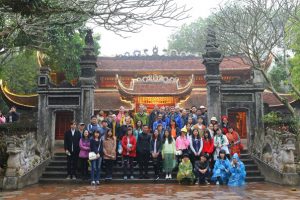 Extracurricular activities on the occasion of New Year for foreign students and cadres closed with a very happy ending, leaving many meaningful memories on the mind of each participant. As a specialized foreign language university, ULIS always pays special attention to foreign students and cadres. This trip speaks volume about this. In the future, ULIS will surely continue to be a loving home for a large number of international students and cadres.