Ambassador of Palestine visited and exchanged at ULIS.
On March 30th, 2017, Mr. Saadi Samala, Ambassador of Palestine in Vietnam paid a visit and worked at University of Languages and International Studies – Vietnam National University, Hanoi (ULIS – VNU). Escorting the Ambassador, there were Mr. Mohammed Bahjat Abdallah – The First Secretary of the Embassy of Palestine in Vietnam and Mr. Abdallah Salameh – Administrative Staff of the Embassy of Palestine in Vietnam.
The delegates were welcomed by Dr. Do Tuan Minh – ULIS's President, Dr. Bui Dinh Thang – Vice-Director of Cooperation and Development Office and teachers from Division of Arabic Language and Culture.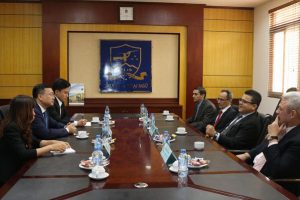 In the meeting, President Minh expressed his grateful thanks to Mr. Saadi and the Embassy of Palestine for helping the university for a long time, especially in teaching Arabic. As the sole education unit of training Arabic bachelor in Vietnam, ULIS has received precious assistance from Embassy of Palestine.
Mr. Saadi Salama expressed his special affection for ULIS and Vietnam. After 37 years living in Vietnam, he really want to facilitate the further development the Arabic language teaching in Vietnam. He wished to act as a bridge for a stronger and deeper relationship between Palestine and Vietnam. He also appreciated the efforts to teach and popularize the Arabic language of ULIS.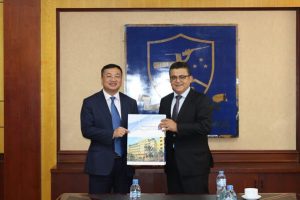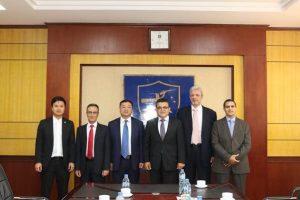 During the meeting, the two sides also discussed the cooperation activities in the future time. ULIS hoped that the Ambassador as well as the Embassy of Palestine could help the school in the activities of fostering teachers, exchanging students, and forming a Vietnamese-Arabic dictionary.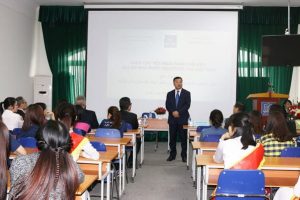 After that, Ambassador Saadi Salama met and exchanged with students of the Division of Arabic Language and Culture. His talk of "the importance of Arabic and mechanisms that need to be applied in studying Arabic" attracted students' attention. Moreover, the Ambassador answered a lot of interesting students' questions about Arabic, culture and history of Palestine as well as experiences of living in Vietnam, etc.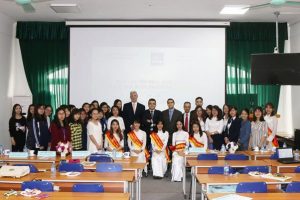 Notably, the Ambassador emphasized that "everyone must have a dream and should always try his or her best to turn its come true."