Continued implementation of attractive internship programs in Japan for students
On September 3rd, 2017, the University of Languages and International Studies (ULIS) held a meeting with Mr Tsukagoshi Kazuyash – President of Intern Support Association in Japan to discuss the cooperation in internship programs in the upcoming time and report on activities of the two groups of students that are currently being trained in Okinawa (Japan)
The meeting was attended by Assoc. Prof. Ngo Minh Thuy – ULIS's Vice President, MA. Nguyen Huyen Trang – Deputy Head of Politics and Student Affairs Office/Director of Center for Student Services, staff and 2 students participating in the next internship program.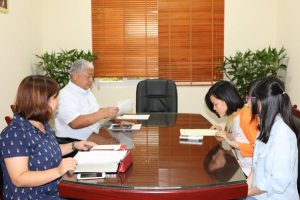 In the meeting, Mr. Tsukagoshi Kazuyashi was delighted to announce that the two students from ULIS with excellent performance were selected to be volunteers at the Japan Tourism Expo in Tokyo. Besides focusing on their work and study, the students in the intern group also attended training courses on catering service and etiquette in Japan. These extracurricular activities were what the students very much enjoyed.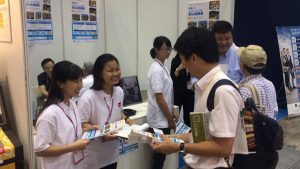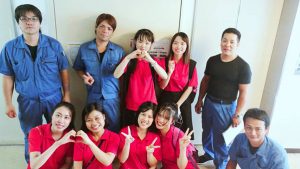 The meeting came to an end with the awarding of intern acceptance for the two students going to Japan in November. The next Okinawa internship program is scheduled to be held in January and June of 2018. Students can now apply at room 106 of Politics and Student Affairs Office.