Foreign Language Specialized School promoted the signing of cooperation agreement with OSAKA University
On November 10th, 2016, Foreign Language Specialized School (FLSS) under University of Languages and International Studies – Vietnam National University, Hanoi (ULIS – VNU) had a working session with Prof. Yaeko Mitsumori – representative of Osaka University (Japan) to discuss about the cooperation between two sides.
The meeting was attended by Assoc. Prof. Dr. Nguyen Thanh Van – Principal of FLSS, Nguyen Phu Chien FLSS's Vice Principal, M.A. Lai Thi Phuong Thao FLSS's Vice Principal and M.A. Tran Thi Thu Nga FLSS's Vice Principal.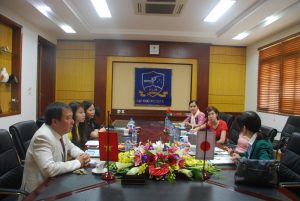 Osaka University, the 6th oldest university in Japan, was founded in 1931. It is evaluated as one of the top training centers of basic science, industry and health services in Asia. Moreover, based on ARWU, Osaka University is ranked 75 in the list of top universities all over the world in 2010.
At present, FLSS and Osaka University is implementing a long-term potential cooperation program by which Osaka University will annually select two students learning at FLSS and award scholarships for them to attend Osaka University. Tentatively, two schools will officially sign cooperation agreement in the following school year. There have been three FLSS's students awarded that scholarship and attending at Osaka University so far.
Assoc. Prof. Dr. Nguyen Thanh Van extended his thanks to Osaka University for assisting excellent FLSS's students in learning in Japan, a high-quality education environment. FLSS's Management Board has received positive feedback from students about advanced training program, enthusiastic lecturers and modern facilities of Osaka University. He also desired that cooperation activity between two schools would be elevated to a new level.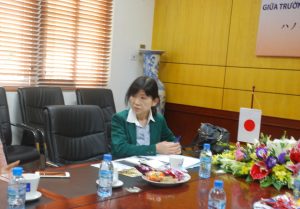 Prof. Yaeko Mitsumori affirmed that the relationship between two schools was built on a long-term basis. She extended her thanks to FLSS for nominating elite students to study at Osaka University. In the upcoming February, because Osaka University will have a selection round, they hope that FLSS will suggest more excellent students to join in this competition. She will deliver extended cooperation activity proposals to Management Board of Osaka University.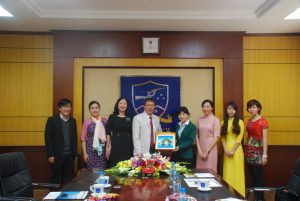 In the end of the working session, representatives from FLSS and Osaka University showed their optimism about cooperation potential and looked forward to the official signing ceremony in the forthcoming time.