Foreign Language Specialized School signed cooperation to exchange students with the KOBE secondary school, Japan
On November 10th, 2016 Foreign Language Specialized School (FLSS) under the University of Languages and International Studies – Vietnam National University, Hanoi (ULIS – VNU) signed the cooperation agreement with the Kobe secondary school (Kobe University, Japan).
The meeting was attended by Assoc. Prof. Dr. Nguyen Thanh Van – FLSS's Principal, Dr. Nguyen Phu Chien – FLSS's Vice-Principal, MA. Lai Thi Phuong Thao – FLSS's Vice-Principal, MA. Tran Thị Thu Nga – FLSS's Vice-Principal.
Representatives for ULIS were Dr. Do Minh Hoang – the Director of International Cooperation Office, Mai Van Hoa – the Deputy Director of International Cooperation Office, Assoc. Prof. Dr. Ha Le Kim Anh – the Head of Academic Affairs Office, MA. Nguyen Van Đoan – the Deputy Head of Politics and Student Affairs Office.
Representative from the Kobe Secondary school were Motoaki Katsuyama – the Vice President of the Kobe secondary school and Iwami Rika – the Head of International Cooperation Office.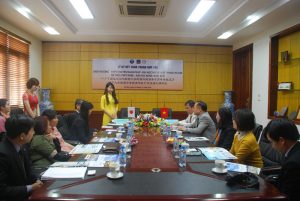 At this meeting, two schools discussed and signed cooperation agreement on two-way short-term student exchange in homestay style. It was a program in Super Global High School Project funded by Japanese government to strengthen cultural exchange relationships and create solidarity between the youth of Vietnam and Japan in particular and among Asian countries in general. At the end of October, four FLSS students had a chance to visit and study the Kobe secondary school. In contrast, FLSS has been receiving six exchanged Kobe students.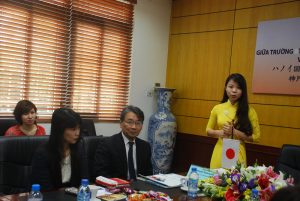 Addressing at the meeting, Vice President Motoaki Katsuyama said they were extremely impressed with Japanese proficiency of FLSS's students as well as the cooperation spirit of FLSS. Therefore, the Kobe Secondary School appreciated cooperation opportunities between two schools in the framework of the Global High School Super Project as well as the potential future cooperation. He also extended his thanks to FLSS for having created opportunities for Japanese students to exchange and study in Vietnam.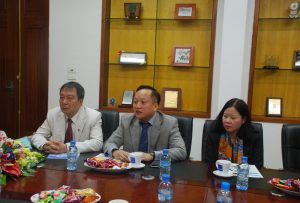 Dr. Do Minh Hoang extended his thanks for the love and goodwill from the Kobe Secondary school. He said that short-term homestay exchange programs were really useful for students of both schools to experience learning environment and culture in Japan and Vietnam. He also expressed the belief in the success of bilateral cooperation, which expands exchange opportunities for students in both schools.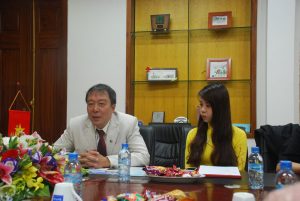 In the signing ceremony, Assoc. Prof. Dr. Nguyen Thanh Van said that LFSS highly appreciated the support of Kobe Secondary School. In the upcoming time, he hoped both schools would expand short-term student exchange cooperation. Moreover, the Principal of FLSS wishes two schools would have more cooperation opportunities in student and teacher training.
The signing ceremony ended in a warm atmosphere, full of cooperation spirit. Certainly, with a good start at the signing ceremony today, FLSS and the Kobe Secondary School will have additional effective cooperation activities in the future.