Meeting and giving gifts to students whose families are in flood-devastated central provinces
On December 22nd, 2016, ULIS held a meeting with students whose families are in flood-devastated provinces in the Central of Vietnam.
The meeting was attended by Assoc. Prof. Dr. Ngo Minh Thuy- ULIS's Vice-President, M.A. Nguyen Van Doan -Chairman of Trade Union, M.A. Vu Van Hai- Director of Politics and Student Affairs Office together with the representatives of Youth Union, Students' Association, offices, centers and faculties and especially10 supported students.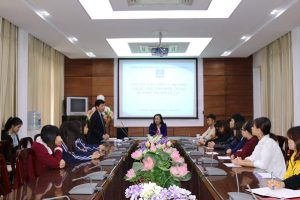 Making a speech at the ceremony, Ms. Thuy, on behalf of the university, expressed great sympathy for these students. Hence, the university decided to offer them gifts which are not only financial support but also spiritual one. She also hoped that they would make constant efforts in study to live up to the expectations of teachers.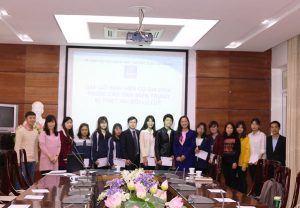 On behalf of Executive Committee of Trade Union, Mr. Doan also encourage the 10 students. The support from the university was expected to help the students and their families overcome their difficulties. The staff also placed a great belief in the students' efforts to get over the situation and perform well at school.
Representing the supported students, Nguyen Thi Hong Nhung extended her gratitude towards the precious support. "In the last few months, our families have faced a lot of difficulties induced by the consequences of natural disasters. However, the university gives us timely encouragement and support, so we never feel alone. In response to the great concern from the university, the Trade Union and all staff, we promise to keep performing well and become the students that you can be proud of", said Nhung at the meeting.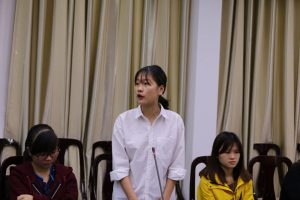 The meeting took place in an intimate atmosphere. In the end, thanks to the support from the university, Trade Union and the staff, a flame of belief and passion for study was kindled in each student.