The University of Languages and International Studies worked with Japan Human Supports Cooperative to organize the internship program
On June 23rd, 2017, University of Foreign Languages and International Studies – Vietnam National University, Hanoi had a meeting with Japan Human Supports Cooperative (JHSC) to organize the internship program for students in Japan.
The meeting was attended by Assoc. Prof. Dr. Ngo Minh Thuy – ULIS's Vice President, Dr. Bui Dinh Thang – Deputy Director of Cooperation and Development Office, Dr. Vu Van Hai – Head of Politics and Student Affairs Office and Dr. Than Thi Kim Tuyen – Deputy Dean of the Faculty of Japanese Language and Culture.
Representatives from Japanese side were Mr. Kikuchi Hirofumi – Chairman of JHSC, Mr. Do Manh Hung and Mr. Le Vinh Phu – General Director and External Manager of Tam Quyen Commercial Joint Stock Company.
During the meeting, Ms. Thuy presented the history, training programs, development cooperation activities and training scale of the Japanese language major of ULIS, thereby affirming the great potential in cooperation between the University and Cooperative, and emphasizing the orientation of the University as to actively organize overseas internship programs.
Mr Kikuchi Hirofumi claimed that JHSC had organized a number of internship programs for thousands of students in which many were Vietnamese for 15 years since its foundation. In its development orientation, JHSC desired to cooperate with ULIS, one of most reputed university for training international languages. By putting together big Japanese enterprises and companies, Mr Hirofumi confirmed that the participation in the internship programs would be useful for ULIS's students.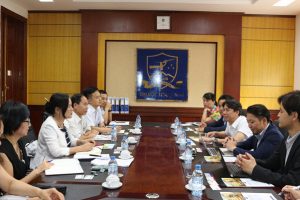 At the meeting, the two sides discussed briefly the contents related to the organization of the internship program in Japan for students studying Japanese and other languages.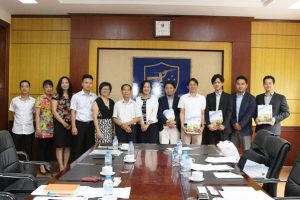 Closing the meeting, the two sides agreed to have continued discussions to put forward the agreement to realize this internship program.