ULIS students interact with Hong Kong delegation
On July 5th, 2019, ULIS-VNU held a meeting with the delegation from Hong Kong on the theme of "Discovering Vietnam Creative" at Sunwah Hall.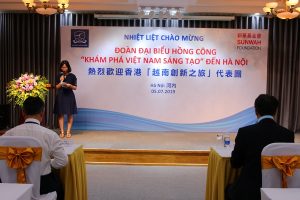 This is a group of students from Hong Kong attending a contest to learn about the Belt and Road Initiative with the theme of "Discovering Vietnam Creative" so that they can explore and survey the actual culture, education and society of countries in the region, helping them expand their vision, understanding and strengthening friendship and diplomacy with foreign students. Vietnam is the destination of the delegation on this occasion.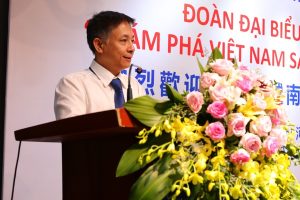 Delivering his speech at the event, Vice President Lam Quang Dong highly appreciated the opportunity as it was believed to strengthen the friendship between Vietnam and Hong Kong, China and countries in the region and the world.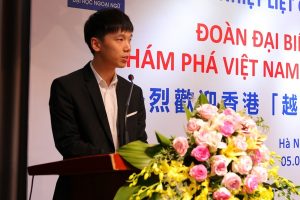 Representing Sunwah Group, Mr. Jesse Choi – Director of Sunwah Vietnam Group hoped that through activities like this, Hong Kong delegation and Vietnamese students could have more understanding and love with one another, thereby promoting good relations between Vietnam and Hong Kong.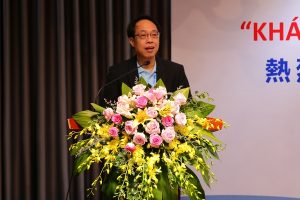 Dr. Wilson Chan, Chairman of the Center for the Belt and Road Initiative shared about the purpose of this exchange activity was to organize an experiential and learning trip for young Hong Kong youths, thereby better understanding about the world in general and Vietnam in particular.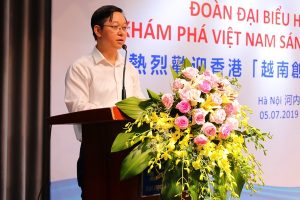 Dean of the Faculty of Chinese Language and Culture Pham Minh Tien hoped that Hong Kong students would have a meaningful time at ULIS and in Vietnam.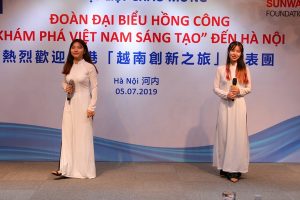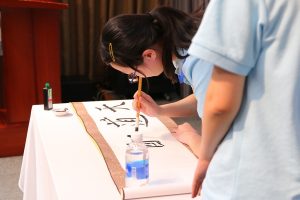 Following the speeches were the performances featured by the students of ULIS and an outstanding calligraphy repertoire of Hong Kong students.