ULIS welcomed and worked with the Ambassador of Egypt on celebrating 20 years of Arabic language teaching
On November 23th, 2016, University of Languages and International Studies- Vietnam National University, Hanoi (ULIS-VNU) welcomed and worked with Mr. Youssef K.Hanna, Ambassador of the Arab Republic of Egypt in Vietnam. The meeting focused on the 20th anniversary of Arabic language teaching – a big event that ULIS was organizing.
The event was attended by Assoc. Prof. Ngo Minh Thuy – ULIS's Vice-President, Dr. Do Minh Hoang – Director of Cooperation and Development Office, M.A. Le Thi Khuyen – Dean of Faculty of Arabic Language and Culture (FALC) and all the teachers of FALC. The second Secretary, Mahmoud Yehia also attended.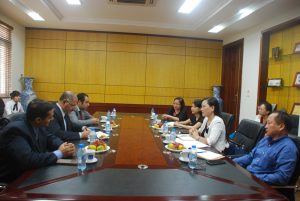 At the meeting, two sides exchanged and discussed to hold the celebration. Mr. Youssef K.Hanna showed his affection to the development of Arabic Language education and training. He always paid attention to the education of Arabic in Vietnam and appreciated all the efforts of ULIS in educating, developing and bringing this language closer to the students. The 20-year anniversary of Arabic Language teaching is the most obvious proof.
Moreover, Mr. Youssef K. Hanna offered to combine this anniversary with the international Arabic's Day (December, 18th) in order to expand the scope of the participants to the embassies of other Islamic countries such as Pakistan, Indonesia, Malaysia, Iran and other international organizations like UNESCO and anyone who is interested in Arabic throughout the countries.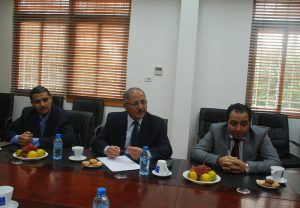 Besides, Mr. Youssef K.Hanna also expressed his desire to jointly organize the Celebration by contributing pictures, articles on display, traditional Arab dishes in the holidays in order to introduce the image of Egypt to students and visitors.
On behalf of the Board of Management, Ms. Ngo Minh Thuy showed her warm thanks for the attention and enthusiastic support of Mr. Youssef K.Hanna. She also invited the ambassador to make a speech in the Ceremony and expected him to become a centre of communication among the university and Arabic agencies and organizations in the country and even international ones. Mr. Youssef K.Hanna has gladly accepted her invitation.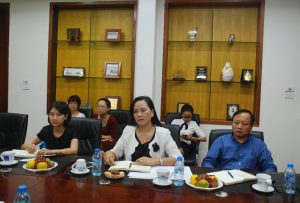 The meeting between the University of Languages and International Studies and the Egyptian Ambassador has ended up successfully.
The Celebration of 20 years of Arabic language teaching at the University of Languages and International Studies on this December will definitely be a successful event thanks to the excellent preparation of the university as well as the enthusiastic coordination of the Ambassador – Mr. Youssef K.Hanna and other related offices.