ULIS welcomed professors and masters students of Thaksin University from Thailand.
On October 1st , 2016, University of Languages and International Studies – Vietnam National University (ULIS), welcomed professors and M.A students of Thaksin University from Thailand at ULIS – Sunwah building.
Attending the meeting were Dr. Hoa Ngoc Son – the director of the Center for International Education, representatives of the Center for International Education, and nearly 30 professors and M.A students of Thaksin University. In particular, the meeting welcomed the presence of Mrs. Natthanan Thongmark – Assistant of the President of External Relations Department and Mr. Kasem Suriyakant, Dean of Faculty of Education from Thaksin University.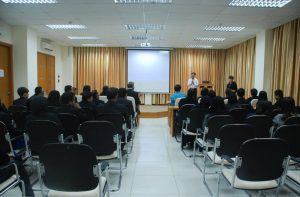 At the meeting, Dr. Son introduced ULIS to the delegates of Thaksin University as a school with very nice space and long tradition, having a well-deserved reputation of teaching in Vietnam. Thai is currently also one of the 2nd languages that many ULIS's students choose to study.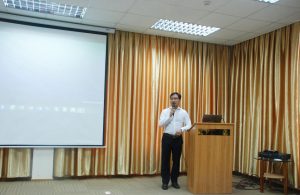 At the same time, he also praised Thaksin University for having trained many talents for the country of golden pagodas. Established in 1968, Thaksin is one of the first universities to offer M.A training programs in Thailand. Thaksin, formerly known as a University of Education, now offers a range of majors, which are divided into different departments.
In particular, Director of the Center for International Education emphasized cooperation prospects between the two countries in the upcoming time. Accordingly, ULIS proposed cooperation with Thaksin University in English teachers training and short exchange programs for students.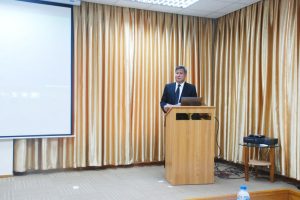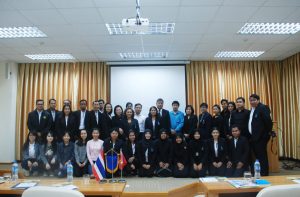 In response, Dean of the Faculty of Education at Thaksin University, Mr. Kasem Suriyakant said the school also appreciated the idea of cooperation between two sides and would try to put this idea into practice. In addition, he extended his thanks for the warm and enthusiastic welcome from ULIS.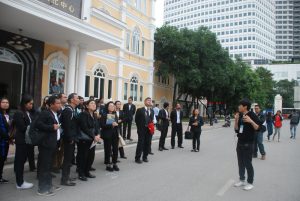 After the meeting, Thaksin University's delegates visited the campus of ULIS. The members all spoke highly of ULIS for its quality as well as the environment for learning and working.