ULIS'S President Do Tuan Minh visited and worked at WENZAO URSULINE University of Languages, Chinese Taipei
In response to the invitation of Ms. Shieu Ming Chou, President of Wenzao Ursuline University of Languages, Chinese Taipei (WUUL), ULIS's President Do Tuan Minh visited and worked at WUUL from October 15th – 16th, 2016.
On October 15th, 2016, WUUL warmly welcomed President Minh. The event was attended by WUUL's President, Vice-Presidents, Director of European-Asian Language Institute, Director of Foreign Language Education Institute, Director of Distance Training Center, leaders of International Cooperation Department.
The event took place in an intimate, open manner with high consensus between both sides. President Minh stressed that ULIS always hoped to elevate the relationship with WUUL into strategic partnership through cooperation in some areas such as capacity building, foreign language learning and teaching methodology improvement, research, postgraduate training, online lecture design, E-learning development, student exchange and international workshop organization.
He thought that the cooperation results between ULIS and WUUL in the last 10 years were very praiseworthy. However, this cooperation is still incommensurate with the available potential of the two universities. Hence, both sides need to enhance cooperation activities in the upcoming time.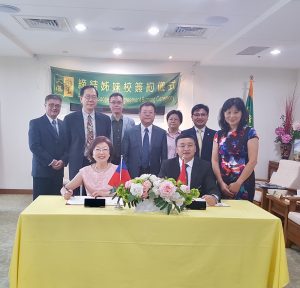 WUUL's President Shieu Ming Chou agreed with President Minh at this point, as while speaking highly of cooperation efforts of ULIS. She thought that student and lecture exchange, international workshop co-organization should not only in Chinese but should be expanded to other languages.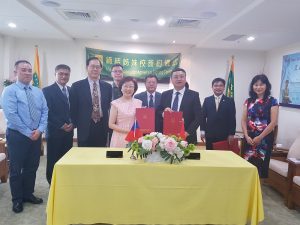 She also asserted that Board of Management, relevant Faculties/Institutes and functional departments of WUUL will have specific plan to implement cooperation activities between two universities as soon as possible.