University of Languages and International Studies (ULIS) signed a cooperative agreement with Takasaki University of Commerce, Japan (TUC)
On December 4th, 2017, University of Languages and International Studies- Vietnam National University (ULIS-VNU) organized a meeting with delegation of TUC.
The meeting was attended by M.A. Mai Van Hoa – The Vice Director of Cooperation & Development Office, MA. Nguyen Huyen Trang – Director of Center for Students' Assistance and teachers of Faculty of Japanese Language & Culture. The delegation of TUC consisted of 4 members led by Mr. Keisuke Morimoto – Director of Academic Affairs Office.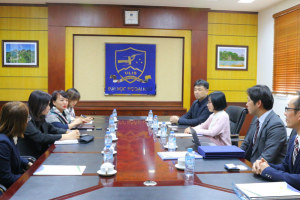 At the meeting, representatives of both sides introduced about the two universities and discussed all potential cooperation activities such as exchanging students, lectures and organizing study tours, internship for students.
In particular, the coordinated organization in the internship for students and student exchange are concerned by the two sides and spent much time on discussing.
Also at the meeting, Mr. Keisuke Morimoto, on behalf of TUC's president, awarded the signed Memorandum of Understanding (MOU) for ULIS. Accordingly, the two sides agreed to cooperate in the fields of student exchange, lecturer exchange, academic research, student recruitment, etc. The MOU is valid for 5 years from the signing date with the renewal term after the termination.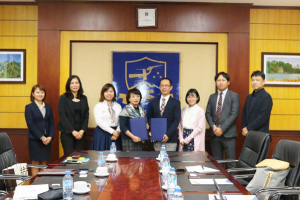 Closing the meeting, the two sides agreed to consult contents of the working session with the President of the two universities to implement the cooperation program in a timely manner.