University of Languages and International Studies worked with leaders of DORCO LIVING VINA Company
On November 1st 2016, University of Languages and International Studies (ULIS) met and worked with leaders of Dorco Living Vina company about the prospects of cooperation between two sides.
The meeting was attended by Assoc. Prof. Ngo Minh Thuy – ULIS's Vice president, M.A. Do Minh Hoang – Director of Cooperation and Development Office, M.A Vu Van Hai – Head of Politics and Student Affairs Office and representatives of related departments. From Dorvo Living Vina Company's side, Mr. Kim Insub – General Director and Mr. Lee Sung Youn – Head of HR Administration Office took part in the meeting.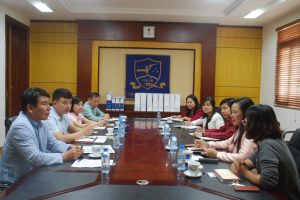 Dorco Living Vina belongs to Dorco, a Korean leading group specializing in the manufacture and sales of razors, razor blades, kitchen knives and cutting knives used in offices. Founded in 1955, the Group has a firm foothold in both domestic and international markets. Dorco has exported mass products to about 100 countries all over the world up to now.
In the framework of the meeting, Mr. Kim Insub suggested cooperation with the ULIS in offering internship for students at the Company (Hung Yen). These students will be facilitated to practice and improve translation skill and have chance to be employed by the Company.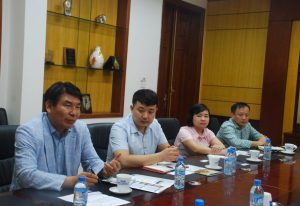 ULIS's Vice-President Ngo Minh Thuy affirmed that ULIS always encouraged students to do internship and work in companies to develop themselves. Therefore, ULIS will put as much effort as it can to help Dorco so that the cooperation between two sides can reach high results.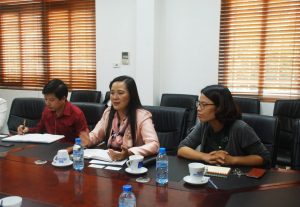 In addition, two sides made discussions about issues relating to other cooperation potentials. All of the suggestions was spoken highly of and taken in consideration.
To finish the meeting, Vice-President Ngo Minh Thuy believed that the cooperation potentials of two sides were huge, especially in intern recruitment. She also sent Dorco Living Vina Company an invitation to Job Fair Day at ULIS. Mr. Kim Inbsub extended his thanks to the University and would work with ULIS's leaders to sign cooperation agreements.