Welcoming and working with President of the International University of Japan
On January 23th 2018, the University of Languages and International Studies – Vietnam National University, Hanoi (ULIS – VNU) had a meeting with the delegation of the International University of Japan led by Mr. Itami Hiroyuki, its President.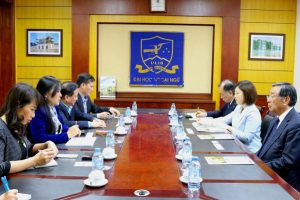 The meeting received the attendance of Assoc. Prof. Ngo Minh Thuy, Vice- President of ULIS, Dr. Do Minh Hoang, Director of Cooperation and Development Office, Dr. Dao Thi Nga My, Dean of Faculty of Japanese Language and Culture, Dr. Huynh Anh Tuan, Dean of Faculty of Graduate Studies.
In the meeting, Mr. Itami Hiroyuki expressed his gratitude to ULIS for helping and supporting the International University of Japan in activities such as representative office opening, international cooperation and Japanese training development in Vietnam.
On behalf of the Management Board, the Vice- president Ngo Minh Thuy respectfully thanked the collaboration of Mr. Itami Hiroyuki and the International University of Japan over the past years. She believed that the potential for cooperation between the two sides was great and the two universities needed to actively implement more cooperative activities in the future.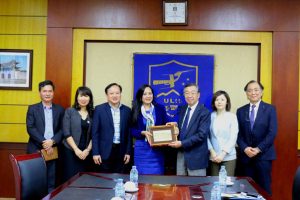 Also at the meeting, the two sides discussed issues related to cooperation opportunities in the upcoming time such as partnership training, student exchange, lecturer exchange, etc.