Working with Ona Asia Foundation on the cooperation to organize the international workshop in 2018
On October 25th, 2017, University of Languages and International Studies – Vietnam National University, Hanoi (ULIS – VNU) had a meeting and worked with two representatives of One Asia Foundation, Mr. Hidekazu Nishizuka – Secretary General, and Prof. Joon Ko Chung – Senior Researcher.
The meeting was attended by Dr. Do Tuan Minh – ULIS's President, and representatives of ULIS's units.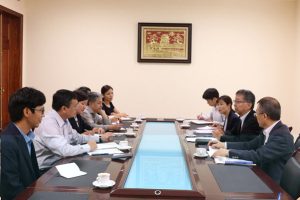 Japanese One Asia Foundation is a non-governmental organzation with the aim of contributing to develop a unified and prosperous Asian community. Over the past many years, the organization has funded many educational institutions around the world to improve people's knowledge, and support to teachers and students who do research related to Asia and the world. Since 2016, at ULIS, the Foundation has funded the Faculty of Korean Language and Culture to successfully hold the course "Study Asian Community".
One Asia Foundation has co-operated with foreign universities and hold 7 international workshops. During the meeting, the representatives from two sides agreed to jointly hold the 8th international workshop in 2018. One Asia Foundation will chair and sponsor it and ULIS will be the host who co-organizes the workshop.
In the meeting, Mr. Hidekazu Nishizuka showed his belief in ULIS and he also asserted that the workshop next year will be outstandingly sucessful owing to ULIS's professional staff with great experience of organizing big events.
President Minh expressed his gratitude to One Asia Foundation for its support. He appreciated the complete trust of One Asia Foundation in ULIS. Therefore, on behalf of ULIS's staff, he pledged the most successful workshop to One Asia Foundation.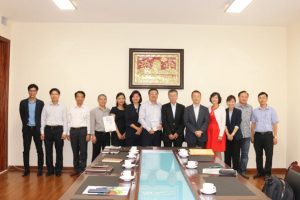 In addition, workshop-related contents were preliminarily discussed by both sides in the meeting. 2018 International Workshop sponsored by One Asia Foundation is scheduled to happen in August next year