Achieving level B2 proficiency in Vietnamese is not enough to perform successfully in Vietnam tertiary education. In fact, besides the language barrier, international students often have difficulty completing foundational courses in Vietnamese due to unfamiliarity with Vietnamese course materials. As a result, many cannot finish their undergraduate degree within 4 years. The Foundation Program for International Students aims not only to equip learners with Vietnamese proficiency for daily activities, but also prepare learners for successful academic performance in Vietnamese higher education context. Students in the program enhance their communicative skills and broaden their background knowledge necessary to study in Vietnam. The topics in foundation courses are also discussed and taught in a direct, communicative manner. Learners will have opportunities to practice conversational Vietnamese Language skills and experience Vietnamese culture at famous tourist destinations in Vietnam.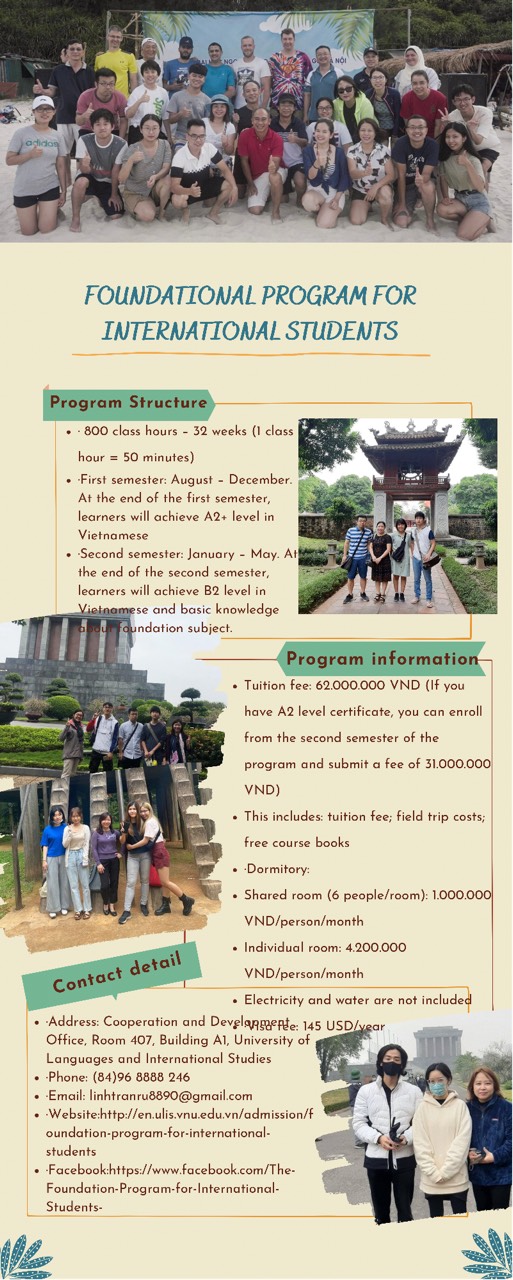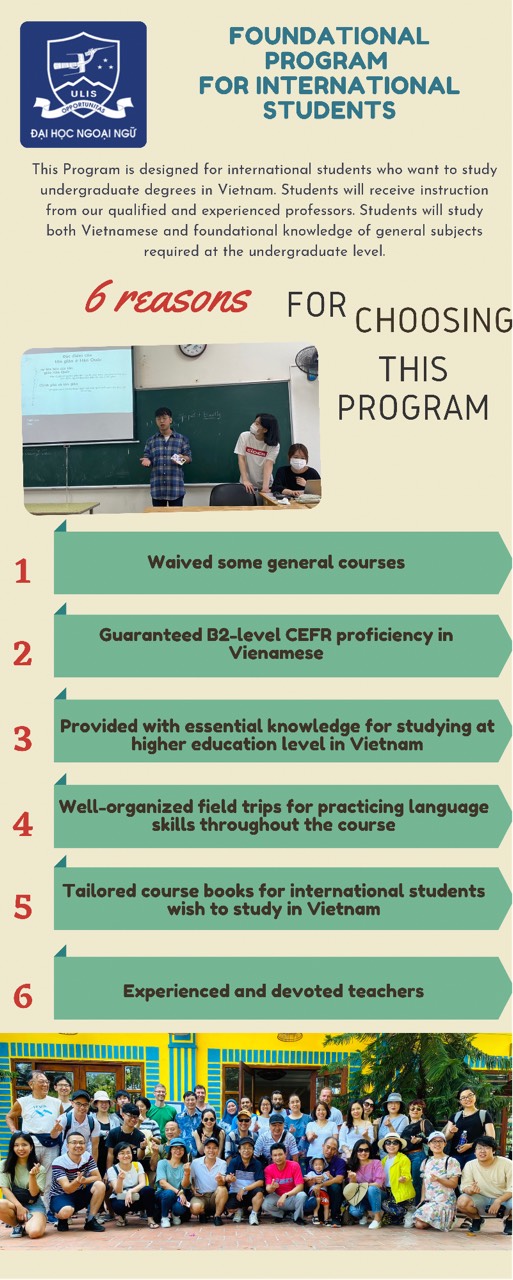 800 class hours – 32 weeks (1 class hour = 50 minutes)
First semester: August – December
Second semester: January – May
At the end of the first semester, learners will achieve A2+ level in Vietnamese
At the end of the second semester, learners will achieve B2 level in Vietnamese and basic knowledge about foundation subject.
International students who are interested in Vietnamese language, culture and is looking to study bachelor degree or master degree in Vietnam.
Has a high school diploma.
Step 1
: Prepare Application package, including: (you can download the forms in the link below)
Application form (Appendix LHS-7)
Certified translation of High School diploma or equivalents.
Certified translation of transcript of high school academic results.
Certified copy of passport
Four profile photos size 4cmx6cm (plain white background, clear face, no eyeglasses, taken within the last 6 months).
Medical certificate issued by relevant health authorities in the home country or Vietnam within the last 6 months (Appendix LHS-8).
Step 2
: Submit the package online via email
linhtranru8890@gmail.com
or at Office of Cooperation and Development, Room 405, A1 Building, University of Languages and International Studies-VNU, No. 2 Pham Van Dong Road, Cau Giay District, Hanoi.
Step 3
: Wait for the admission.
Contact Detail
Cooperation and Development Office Room 405, Building A1, University of Languages and International Studies Phone: (84)96 8888 246 Email:
linhtranru8890@gmail.com